Este ano preparei um Guia de Compras de Natal no Porto com algumas das mais originais sugestões que pode encontrar na cidade. Revelo-vos onde podem encontrar as mais delicadas e preciosas peças de cristal artesanal europeu (Toujours Maison), criações de autor únicas para enaltecer o quarto das crianças (Le Petit Mool), os melhores chocolates e bombons do mundo (DuMonde Chocolat)  e até doces com sabor a Portugal que se levam em bisnagas de cores (Meia Dúzia). E para conhecer o Porto pela primeira vez ou vivê-lo como nunca, trago-vos  duas experiências novas que nos levam a voar sobre a cidade (Porto Bridge Climb e Look at Porto). Do presente de uma vida aos pequenos grandes mimos, este guia mostra o melhor que o Porto tem.
This year I have prepared a Christmas Shopping Guide in Porto with some of the most original suggestions you can find in the city. I reveal to you where you can find the most delicate and precious pieces of European handmade crystal (Toujours Maison), unique author creations to praise the children's room (Le Petit Mool), the best chocolates and chocolates in the world (DuMonde Chocolat) and even Sweets with flavor to Portugal that take in tubes of colors (Half Dozen). And to get to know Porto for the first time or to experience it as never before, I bring you two new experiences that take us to fly over the city (Porto Bridge Climb and Look at Porto). From the gift of a lifetime to the small great pampering, this guide shows the best that Porto has.
Bagatelle Vase, Nogent Bowl e Elisabeth Vase, Jaras e taça Lalique adornadas por pequenas aves que fazem a luz voar no tom Gold lustre. Na Toujours Maison.
Jars and Lalique cup adorned by small birds that make light fly in the tone Gold chandelier. 
A Toujours Maison é um refúgio etéreo do bulício da cidade, que a enaltece com o melhor design de interiores europeu, escolhido criteriosamente pela reconhecida decoradora Cristina Pinto. Eternamente contemporâneas, as peças de cristal Lalique e as obras de pâte de verre da Daum são verdadeiras obras de arte feitas de raiz por artesãos únicos, resultando num efeito visual e táctil de uma delicadeza extrema.
Toujours Maison is an ethereal haven from the hustle and bustle of the city, which exalts it with the best European interior design, carefully chosen by renowned decorator Cristina Pinto. Eternally contemporary, the Lalique crystal pieces and Daum's pâte de verre works are true works of art made from scratch by unique craftsmen, resulting in a visual and tactile effect of extreme delicacy.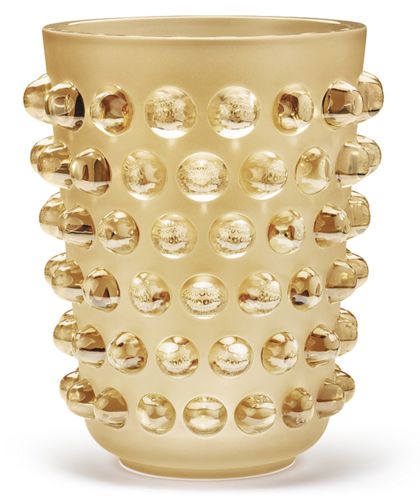 A Mossi XXL é uma jarra Lalique imponente que gera múltiplos reflexos. Em Gold lustre, na Toujours Maison.
The Mossi XXL is an imposing Lalique jar that generates multiple reflections. In Gold Chandelier, at Maison Toujours.

Com 107 cm de altura, esta marcante escultura de pâte de verre chamadas Les 7 Perles foi criada pela escultora Marie-Paule Deville e faz parte de uma edição limitada de 75 exemplares da prestigiada Daum. Tem que ser vista ao vivo e só por si, justifica uma visita à Toujours Maison.
 107 cm tall, this striking pâte de verre sculpture called Les 7 Perles was created by the sculptor Marie-Paule Deville and is part of a limited edition of 75 copies of the prestigious Daum. It has to be seen live and by itself, justifies a visit to Toujours Maison.
---
Com a assinatura de Joana Monteiro e Rui Loureiro, a Le Petit Mool é uma nova marca, concept store e estúdio português pensada para criar ambientes não só confortáveis como também inspiradores para as crianças. O mobiliário original da marca é versátil e de linhas simples, adaptáveis e os apontamentos têxteis, de iluminação e decoração respiram criatividade e sustentabilidade. Joana e Rui valorizam apostam na produção nacional e deixam três sugestões que nos deixam orgulhosos.
With the signing of Joana Monteiro and Rui Loureiro, Le Petit Mool is a new brand, concept store and Portuguese studio designed to create environments not only comfortable but also inspiring for children. The original furniture of the brand is versatile and has simple lines, adaptable and the textile, lighting and decoration breathe creativity and sustainability. Joana and Rui value bet on the national production and leave three suggestions that make us proud.
Secretária Aurea: desenhada à escala da criança, tem uma original arrumação pelo tampo, com porta lápis incluído e permite instalar um rolo de papel. Com duas alturas de fixação do tampo, as pernas da mesa crescem com a criança. Em contraplaco marítimo de bétula, disponível em qualquer cor. 1,01cm (L) x 0,585cm (P) x 0,55 cm (A). Preço sob consulta, na Le Petit Mool.
Secretary Aurea: designed to the child's scale, it has an original storage by the top, with pencil holder included and allows to install a roll of paper. With two heights, the table legs grow with the child. Available in any color. 1.01cm (L) x 0.585cm (P) x 0.55 cm (A). Price on request, at Le Petit Mool.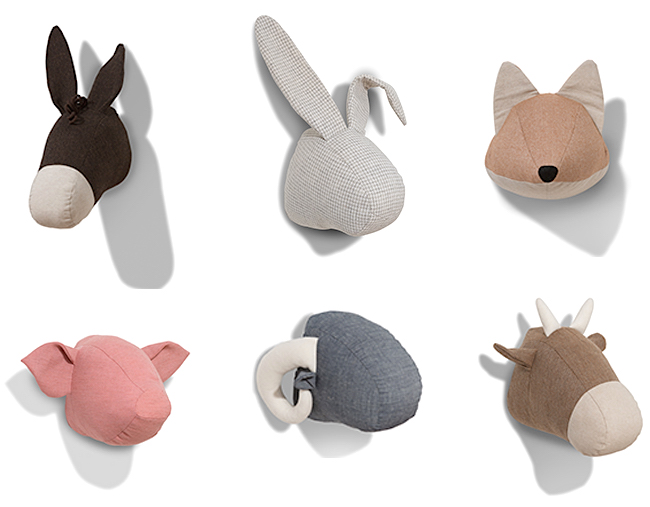 Animais da Quinta: inspiradas nos animais tipicamente portugueses, estas cabeças decorativas apresentam um cuidado trabalho de detalhe estilizado. Valor médio de cada: 54,95€, na Le Petit Mool.
Farm Animals: inspired by the typically Portuguese animals, these decorative heads feature a careful stylized detail work.
Average value of each: € 54.95, at Le Petit Mool.
Ilustrações de Ana Bacelar: ilustrações originais sublimes, executadas a lápis de cor com um detalhe e beleza surpreendentes. Arquitecta de formação, Ana Bacelar retrata a uma nova le delicada luz a natureza única de Portugal. Em exclusivo na Le Petit Mool.
Illustrations by Ana Bacelar: original illustrations sublime, executed in colored pencil with an amazing detail and beauty. Arquitecta de formation, Ana Bacelar portrays to a new delicate light the unique nature of Portugal. Exclusive at Le Petit Mool.
---
A DuMonde Chocolate é um lugar, criado por Hugo Resende e Antónia Germanova, onde os melhores chocolates do mundo se encontram no Porto. Mais de 40 marcas internacionais  oriundas de 30 países recheiam esta glamorosa boutique de chocolate com tabletes, bombons e trufas de cariz marcadamente artesanal. A DuMonde é ainda palco dos bombons portugueses de assinatura Denegro, com uma paleta de cores e sabores surpreendente. Time to chocolate!…
DuMonde Chocolate is a place created by Hugo Resende and Antónia Germanova, where the best chocolates in the world meet in Porto. More than 40 international brands from 30 countries fill this glamorous chocolate boutique with remarkably handmade tablets, chocolates and truffles. DuMonde is still the stage of the Portuguese signature Denegro bombons, with an amazing palette of colors and flavors. Time to chocolate! …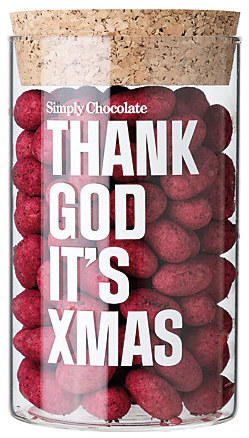 Da dinamarquesa Simply Chocolate, este encantador frasco com amêndoas cobertas de chocolate branco e envolvidas em pó de groselha é um presente tão delicioso como invulgar. Na Dumonde Chocolat. 18,50 €/unidade.
From the Danish Simply Chocolate, this lovely jar with white chocolate covered almonds and wrapped in gooseberry powder is a gift as delicious as unusual. In the Dumonde Chocolat. € 18.50 / unit.
O pack presente Maxim's de Paris, com 3 mini-casinhas recheadas com bombons, é um luxo que perdura. Na Du Monde Chocolat. 14,95€ cada conjunto de 3 casinhas.
The Maxim'sof Paris package , with 3 mini-boxes stuffed with chocolates, is a luxury that endures. At Du Monde Chocolat. € 14.95 each set of 3 houses.
Estas amorosas mini tabletes para crianças são da espanhola Orgániko, que se orgulha de trabalhar com matérias-primas 100% naturais. Na DuMonde Chocolat. 2,45 €/unidade.
These loving mini-tablets for children are from the Spanish Orgániko, which prides itself on working with 100% natural raw materials. At DuMonde Chocolat. € 2.45 / unit.
---
A Meia Dúzia Portuguese Flavours Experience tem uma gama de compotas, chocolates e até mel apresentados em originais bisnagas de alumínio. Cria experiências numa paleta de sabores que inclui harmonizações com Vinho do Porto, Moscatel do Douro e Vinho da Madeira. As bisnagas dispensam os tradicionais utensílios para barrar e a inovação da marca faz com que esteja já presente um pouco por todo o mundo e tenha expandido a sua oferta para incluir chás e licores artesanais… em tubos. Para estimular os sentidos, os clientes podem ainda criar os seus próprios packs de 6 sabores.
The Meia Dúzia Portuguese Flavors Experience has a range of jams, chocolates and even honey presented in original aluminum tubes. It creates experiences in a palette of flavors that includes harmonizations with Port Wine, Moscatel from Douro and Madeira Wine. The tubes dispenses the traditional utensils to spread and the innovation of the brand makes it already present a little around the world and has expanded its offer to include teas and homemade liqueurs … in tubes. To stimulate the senses, customers can even create their own packs of 6 flavors.
Pack 3 Chocolates Coração Viana: Três variedades de chocolate de São Tomé e Príncipe prontos a pintar muitos momentos voluptuosos inspirados pelo intemporal coração de Viana. 13,50€/ unidade, na Meia Dúzia.
Pack 3 Chocolates Heart of Viana: Three varieties of chocolate from São Tomé and Príncipe ready to paint many voluptuous moments inspired by the timeless Heart of Viana. € 13.50 / unit in at Meia Dúzia.
O Cabaz de Natal Nº 4 combina tentadores chocolate, biscoitos e vinho. Doce Extra de Morango com Vinho do Porto e Malagueta, Creme de Chocolate Negro São Tomé com Cereja e Brandy, Creme de Chocolate Negro São Tomé com maracujá, Creme de Chocolate Negro São Tomé com Amora, Avelã e Noz-Moscada, Chá de Rooibos com Pedaços de Chocolate e Hortelã-pimenta, Chá Verde com Frutos Vermelhos e Citrinos, Vinho Magnum, Tom de Baton Tinto 2011 – 750 ml e Biscoito de Caju Miolo de Nós. 42,50 €/ unidade, na Meia Dúzia.
The Christmas Basket No. 4 combines tempting chocolate, biscuits and wine. Extra Strawberry Jam with Port and Malagueta Wine, Black Chocolate Cream São Tomé with Cherry and Brandy, São Tomé Black Chocolate Cream with passion fruit, São Tomé Black Chocolate Cream with Blackberry, Hazelnut and Nut-Moscow, Rooibos Tea with Pieces of Chocolate and Peppermint, Green Tea with Red Fruits and Citrus, Magnum Wine, Red Tomato Tone 2011 – 750 ml and Cashew Nut Cookie from Us. € 42.50 / unit, in Half Dozen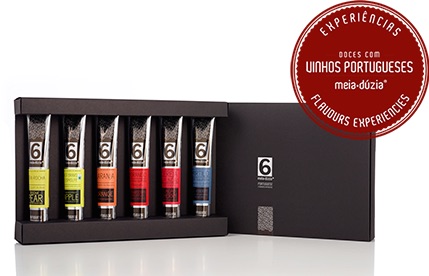 Pack de 6 Vinhos Portugueses – Uma selecção de doces de fruta com experiências de vinho Moscatel do Douro, Vinho do Porto, Brandy e Vinho da Madeira. 23,50€ / unidade, na Meia Dúzia.
Pack of 6 Portuguese Wines – A selection of fruit sweets with Moscatel do Douro wine, Port Wine, Brandy and Madeira Wine. € 23.50 / unit at Meia Dúzia.
---
Esta sugestão é para quem procura uma experiência completamente diferente na cidade. A Porto Bridge Climb oferece-lhe a possibilidade de subir à icónica Ponte da Arrábida, de forma segura, "escalando" 262 degraus num arco com 65 metros de altura. A visita dura 30 minutos e, ao chegar ao topo, a equipa recompensa os audazes com uma surpresa deliciosa e um ponto de vista da cidade e do Atlântico arrebatadores. Um presente inesquecível para criar memórias duradouras.
This suggestion is for anyone looking for a completely different experience in the city. Porto Bridge Climb offers you the possibility to climb to the iconic Arrábida Bridge, safely, "climbing" 262 steps in a 65 meter high arch. The visit lasts 30 minutes and, upon reaching the top, the team rewards the daring with a delightful surprise and a breathtaking view of the city and Atlantic. An unforgettable gift to create lasting memories.
Porto Bridge Climb. Subida à Ponte da Arrábida. Vista de 30 minutos, em grupos de 1 a 13 pessoas, a partir dos 14 anos.
Segurança completa com corrimão e linha de vida + arnês. 9,50€/pessoa de 2ª a Sex; 12,50€/pessoa aos Sábados e Domingos. Vouchers oferta para uma ou mais pessoas, enviados por correio sem custos e sem prazo de validade.
Porto Bridge Climb. Climb to Arrábida Bridge. View of 30 minutes, in groups of 1 to 13 people, from 14 years.
Complete safety with handrail and lifeline + harness. € 9.50 / person from Monday to Friday; € 12.50 / person on Saturdays and Sundays. Vouchers offer for one or more people, sent by mail without cost and with no expiration date.
---
Na fachada de um edifício histórico de Miragaia, uma obra de Vhils chama por quem passa. Do rosto esculpido sobressai um olhar profundo, que nos impele a descobrir mais. Este é o cenário que mora do Look at Porto, um espaço onde se pode viver uma emocionante viagem sobre o Porto em cinema 5D. Cadeiras com movimento e um ambiente simulador despertam sensações de aroma, toque e vento e levam os espectadores a desfrutar de vistas deslumbrantes sobre a cidade e a entrar em monumentos emblemáticos.
On the façade of a historic building in Miragaia, a work of Vhils calls by who passes. From the carved face stands a deep gaze that impels us to discover more. This is the scenery that lives at Look at Porto, a space where you can live an exciting trip over Porto in 5D cinema. Moving chairs and a simulating environment awaken sensations of aroma, touch and wind and take viewers to enjoy breathtaking views of the city and to enter emblematic monuments.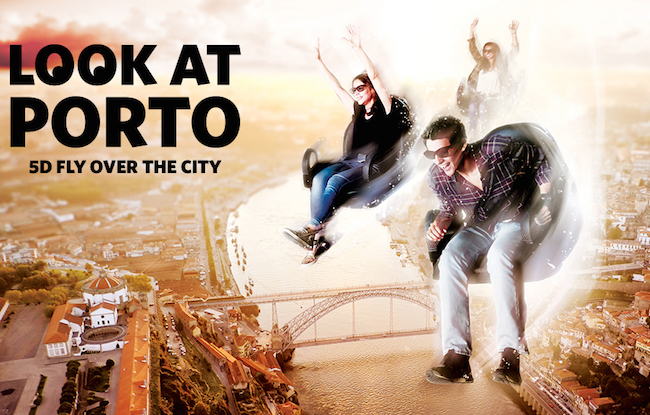 Look at Porto Cinema 5D, sessão de 10 minutos: 6 €/pessoa até 31 de Dezembro. Preços 2017: 6 €/criança e 8€/adulto.
Look at Porto Cinema 5D, session of 10 minutes: 6 € / person until 31 December. Prices 2017: € 6 / child and € 8 / adult.
---
Contactos e Horários
Contacts and Opening Hours
TOUJOURS MAISON
Morada/Address: Rua Trindade Coelho, 26 | 4050-618 Porto | Tel.: +351 223 238 302
Horário de Funcionamento/Opening Hours: Seg./Mon 15-19:30, Ter.-Sáb./Tue-Sat 10:00-13:00 H e 15:00-19:30; Sáb./Sat 10:00-13:00 e 15:00-19:00 H.
Facebook | Mais informação aqui.
LE PETIT MOOL
Morada/Address: Rua Miguel Bombarda 648, 4050-379 Porto | Telem./Mobil: +351 220 994 081
Site e encomedas online aqui | Facebook | Instagram
DUMONDE CHOCOLATE
Morada/Address: R. de Santa Teresa, 40| 4050-537 Porto
Horário de Funcionamento/Opening Hours:Seg-Sáb. 10:30-19:30; Dom. e Feriados: 11:00-18:00
Facebook Video da DuMonde
MEIA DÚZIA
Morada/Address: Loja do Porto – Boutique e Sala e Degustação: R. das Flores, 171| 4050-266 Porto
Tel.: +351 222 031 064 | E-mail: geral@meiaduzia.pt
Horário de Funcionamento/Opening Hours: Dom.-Qui. 10:00-20:30; Sex. e Sáb. 10:00-22:00
Outras lojas, encomendas online e mais informação no Site Meia Dúzia | Facebook
PORTO BRIDGE CLIMB
Morada/Address: Rua do Ouro, 680, Porto | Tel.para reservas : +351 929 207 117
Horário de Funcionamento/Opening Hours: Todos os dias, 14:15-19:30 (última visita às 19:00)
Site Facebook
LOOK AT PORTO
Morada/Address: Rua da Ancira, 6 e 8, Miragaia | 4050-045 Portoenvolto
Tel.: +351 222 038 190 E-mail: reservas@lookatporto.pt
Horário de Funcionamento/Opening Hours: 10:00-20:00 H, diariamente.
Site Facebook
---
#VeraDantas #PortoEnvolto #Porto #Natal #Luxury #Lifestyle #ComprasdeNatal #ChristmasGift #Viajar #Portugal #Luxo #FineandCandy #ToujoursMaison #Lalique #Daum #Oporto #NorthernPortugal #PortugueseBrands #ArtisanChocolate #LePetitMool #MeiaDuzia #DuMondeChocolat #PortoBridgeClimb #LookatPorto #XmasGiftGuide #Christmas #lifestyle #chocolate