A Day by Day Agenda é uma agenda de assinatura portuguesa criada para mulheres viverem o seu "day by day" pessoal e profissional de forma intensa e motivada com um interior pensado ao pormenor. Julho é o mês que vê nascer uma nova edição desta belíssima agenda, com calendário até Junho de 2017, pensado também para preparar mais um ano lectivo das mulheres mães.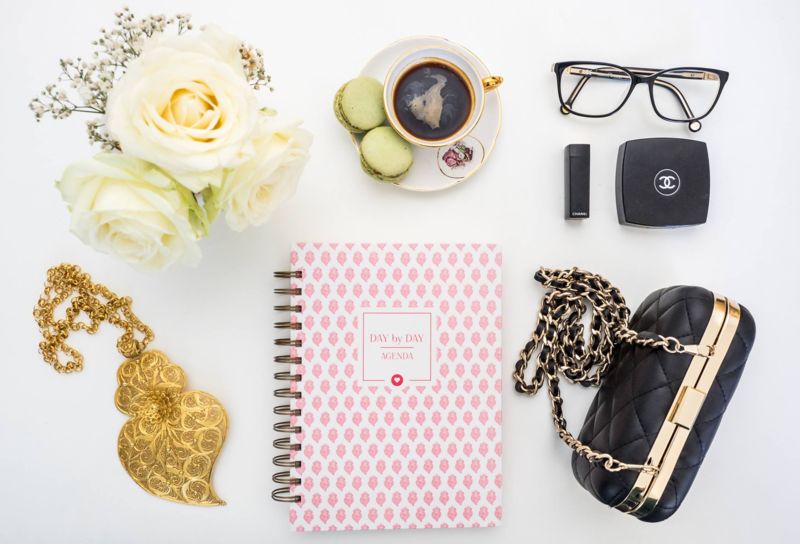 Criada pela Raquel Soares, uma gestora de pessoas que valoriza a organização e motivação que um alto desempenho com pessoas exige. Raquel é também mãe e por isso sentiu necessidade de criar uma ferramenta para ajudar a gerir e organizar o tempo pessoal e profissional. E fê-lo com o coração, tendo superado o investimento necessário para o projecto através de crowdfunding. Eu acredito que foi assim porque ninguém resiste à sua simpatia.
Quanto à eficácia desta agenda única, a Raquel assegura: "Testei e funciona!". E eu também, que a estou a usar porque é importante planear as acções de forma orientada para atingir bons resultados. É por isso que esta agenda inclui páginas para gestão de desempenho, objectivos, listas de compras e até ementas. E um detalhe especial muito importante: um espaço diário para "boas coisas que acontecem".
A Day by Day é uma agenda com design inspirador, da autoria do designer Miguel Paulo. Na capa, cornucópias cor-de-rosa inspiradas no design de uma jóia em filigrana do mesmo ourives de Gondomar que criou a jóia usada pela actriz Sharon Stone lançam o mote para dias inspiradores. As agendas Day by Day de Julho de 2016 a Junho de 2017 são feitas de papel de produtores responsáveis, numeradas e gravadas a folha de ouro, numa edição limitada de 300 exemplares. A minha tem o número 258, que coincidentemente corresponde ao indicativo telefónico da minha cidade-natal, Viana do Castelo! Mas penso que não é coincidência, pois a Raquel e eu ficamos amigas assim que nos conhecemos!
Para comprar a sua Day by Day Agenda vá ao site aqui ou então aproveite para passear na baixa do Porto e comprá-la na mágica Livraria Lello do Porto ou então na loja do Palácio da Bolsa. Uma agenda tão especial só podia mesmo morar na livraria mais bonita do mundo.
Day by Day Agenda
Encomendas e detalhes aqui
Facebook
---
English Version
The Day by Day Agenda is a Portuguese signature agenda created for women to live their personal and professional "day by day" intensely motivated and with an ultimate attention to detail. July is the month that sees the birth of a new edition of this beautiful agenda, with a calendar until June 2017, also thought to prepare the new school year for women who are also mothers.
Created by Raquel Soares, an human resources manager that values high performance organization and motivation. Rachel is also a mother and therefore felt the need to create a tool to help manage and organize her personal and professional time. And she did it from the heart, having surpassed the investment required for the project through crowdfunding. I believe it was so because no one resists to her sympathy.
As for the effectiveness of this unique agenda, Rachel says, "I tested it and it works!". I am using one myself because it is important to plan actions in a targeted manner to achieve good results. That's why this book includes pages for performance management, goals, shopping lists and even menus. And a very important special detail too: a daily space for "good things that happen."
The Day by Day is an agenda with inspiring design ,authored by the designer Miguel Paulo. To inspire creative days, the cover portrays pink cornucopias inspired in the design of a jewel filigree created by the goldsmith of Gondomar that made the famous filigree jewellery wore by Sharon Stone when she visited to Portugal.
The Day by Day Agendas, in the current edition from July 2016 to June 2017, are made of paper manufactured by responsible producers, numbered and engraved in gold leaf, in a limited edition of 300 copies. Mine has the number 258, which coincidentally matches the access code of my home town of Viana do Castelo! But I think it is no coincidence , as Rachel and I became friends as soon we've met !
To buy your Day by Day Agenda go to the website here or you take the time to stroll in downtown Porto and buy it in magic Lello Porto bookshop, the most beautiful bookshop in the world. A good fit for such a beautiful agenda.
Day by Day Agenda
Orders and details here
Facebook
#VeraDantas #portoenvolto #porto #daybydayagenda #agenda #2016 #lifestyle #portuguesebrands #marcasportuguesas #portugal #livrarialello