There´s a monument in Porto which defies your eyes: you must look up to be amazed! The Palácio da Bolsa in Porto stands out among the old rooftops of the historic center as a great tribute to the emerging nineteenth century bourgeoisie of the city, which both contributed to its prosperity and prestige. It was built to be the headquarters of the Porto Commercial Association and the construction was fully funded by merchants, who for that purpose launched a tax on their own income.
O Palácio da Bolsa do Porto destaca-se sobre o velho casario do centro histórico como uma grandiosa homenagem à burguesia emergente da cidade, que tanto contribuiu para a sua prosperidade e prestígio. Foi construído para ser a sede da Associação Comercial do Porto e a obra foi totalmente custeada pelos comerciantes, que para tal lançaram um imposto sobre os seus próprios rendimentos.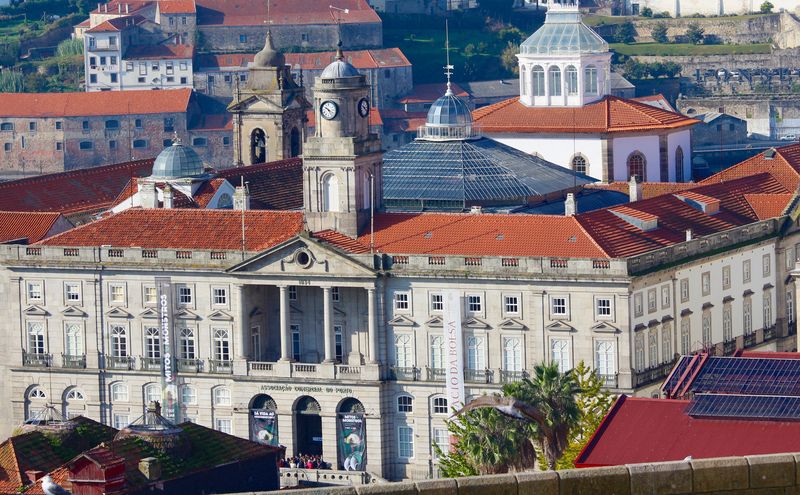 Its neoclassical lines fit with elegance in the open wide Infante Square, facing the Douro river, right alongside the also great Port and Douro Wine Institute building. At a distance, what first catches one´s attention are its two unique domes. The large octagonal dome of iron and glass captures all the light from Porto's sunny sky into the Hall of Nations, the first visitable space of the palace. This massive structure is flanked by twenty coats of arms representing the countries with which Portugal had friendly and trade relations in the nineteenth century. The pink marble walls and subtle wrought iron chandeliers with large glass balloons add to it an exquisite charm above the coated floor with ceramic tiles inspired by Greco-Roman Pompeii models. It was in this unlikely scenario that, from 1901 to the mid-1990 the Porto Stock Exchange was installed.
As suas linhas neoclássicas encaixam-se com elegância na ampla Praça do Infante, virada para o Douro, mesmo abaixo do também grandioso edifício do Instituto dos Vinhos do Douro e do Porto. Ao longe, o que primeiro nos cativa o olhar são as suas duas singulares cúpulas. A grande cúpula octagonal, de ferro e vidro, capta toda a luz do céu portuense para o Pátio das Nações, o primeiro espaço visitável do palácio. Esta grande estrutura está ladeada por vinte brasões que representam os países com os quais Portugal mantinha relações de amizade e comércio no século XIX. O mármore rosa das paredes e os subtis lustres de ferro forjado com grandes balões de vidro adicionam-lhe um charme requintado acima do pavimento revestido a mosaico cerâmico inspirado nos modelos greco-romanos de Pompeia. Foi neste cenário improvável que, de 1901 a meados de 1990, esteve instalada a Bolsa de Valores do Porto.
You will access to the first floor by a large grand staircase. Here too a magnificent dome dominates the space. Two huge romantic chandeliers stand out from the center of the dome decorated with subtel colored frescos. These chandeliers are a creation of the great Portuguese sculptor Soares dos Reis and are a testimony to an era in which the palace was one of the first buildings with electricity on Porto.
O acesso ao primeiro andar faz-se por uma grande escadaria nobre. Também aqui uma magnífica cúpula domina o espaço. Dois enormes lustres românticos destacam-se ao centro da abóbada pintada a frescos de cores subtis. Estes lustres são criações do notável escultor Soares dos Reis e testemunham uma época em que o palácio foi dos primeiros edifícios com electricidade no Porto.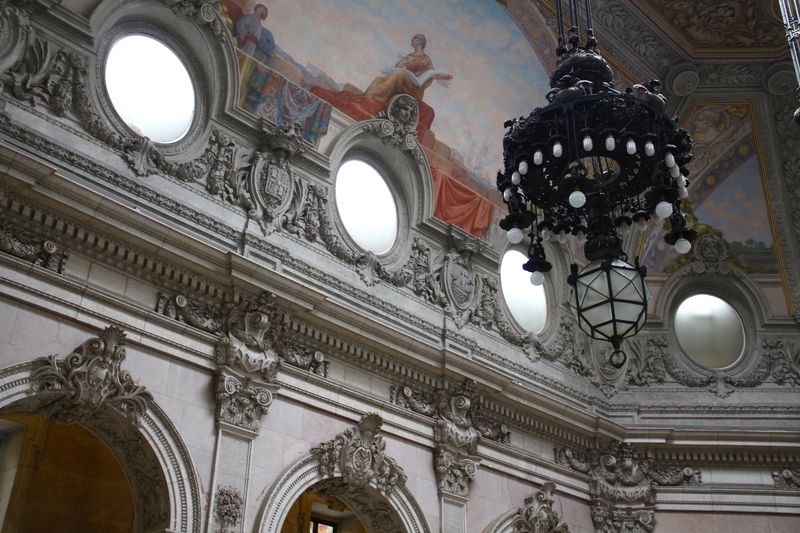 By moving to the corridors, my advice is to continue to look up. Even in these passages that lead to many rooms of the palace, the ceilings boast formidable plasterwork on a voluptuous yellow tone background.
Ao passar para os corredores, o meu conselho é que continuem a olhar para cima. Mesmo nestas passagens de acesso às muitas salas do palácio, os tectos ostentam formidáveis trabalhos de estuque sobre um voluptuoso fundo de tom amarelo.
By following these "yellow roads" you will be taken to one of the greatest treasures of our country: the Arab Hall, in a Moorish style inspired by the Alhambra Palace. The enchantment caused by the nineteenth-century painted stucco literally in gold over blue to fit a multitude of Arabic characters causes a suspension in time sensation. This wonderful hall is therefore the natural choice when it comes to receiving the heads of state visiting the city and hosting concerts and cultural prestigious events.
Ao seguir estes "caminhos amarelos" somos levados para um dos maiores tesouros do nosso país: o Salão Árabe, de estilo mourisco e inspirado no Palácio de Alhambra. O deslumbramento causado pelos estuques oitocentistas pintados literalmente a ouro sobre azul para enquadrarem uma profusão de caracteres arábicos provoca uma sensação de suspensão no tempo. Este lugar de deslumbre é por isso a escolha natural para receber
os chefes de Estado que visitam a cidade e para acolher concertos e eventos culturais de prestígio.

A guided tour of the Palácio da Bolsa will also take you to other spaces like the Court Room, with panels allusive to the wealth of economic activities of the city and the surrounding region and the Room of General Meetings, with a remarkable work of optical illusion by the artisans who gave the plaster lining the walls the appearance of real wood.
Numa visita guiada ao Palácio da Bolsa podem ainda visitar outros espaços como a Sala do Tribunal, com painéis alusivos à riqueza das actividades económicas da cidade e da região envolvente e a Sala das Assembleias Gerais, com um notável trabalho de ilusão óptica dos artífices que deram ao gesso que reveste as paredes a aparência de madeira verdadeira.
Palácio da Bolsa
Rua Ferreira Borges, 4050-253 Porto
Opening Hours:
April-October: 9 a.m. – 6:30 p.m.
November-March: 9 a.m. -12:30; 2:00 – 5:30 p.m.
Tickets from 2 – 8 €, Free for children <12
More information here
Palácio da Bolsa
Rua Ferreira Borges, 4050-253 Porto
Horário de Funcionamento:
Abril / Outubro: 9 – 18:30 H
Novembro / Março: 9 -12:30; 14 – 17:30 H
Bilhetes de 2 a 8 €, Crianças <12 anos grátis
Mais informações aqui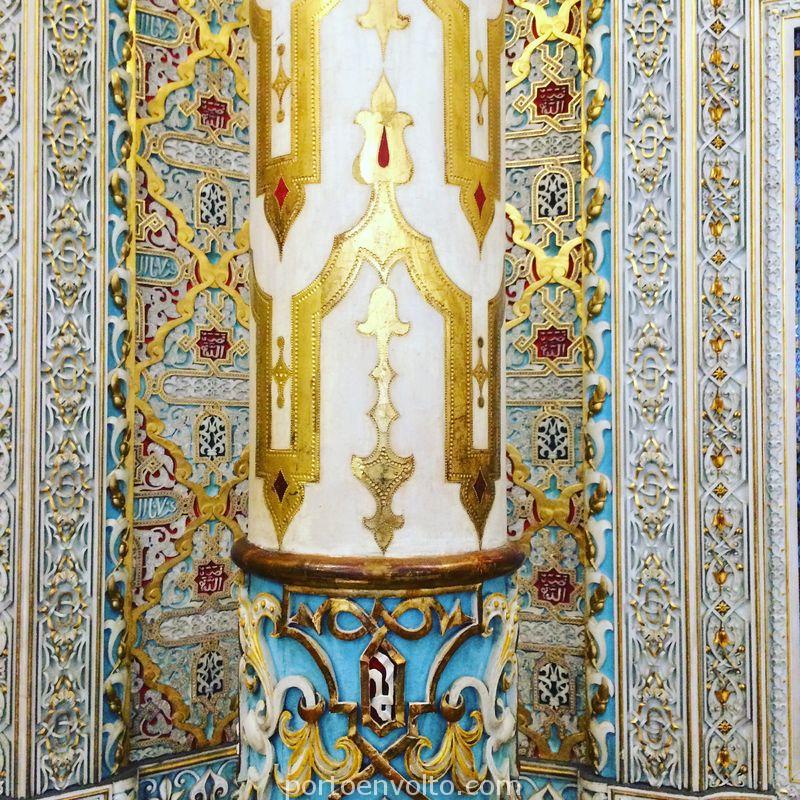 My visit was even more special because I had the company of  my friend Liliana Navarra, an Italian blogger which you can find at Lilly's Lifestyle.
A minha visita foi ainda mais especial porque tive a companhia da minha amiga Liliana Navarra, uma blogger italiana também apaixonada por Portugal que podem encontrar em Lilly's Lifestyle.