Qual é a ideia que vem à cabeça de um estrangeiro quando ouve a palavra "Portugal"? Além da resposta mais comum que é, como sabem, "Ronaldo", felizmente o nosso país é cada vez mais conhecido lá fora pela simpatia das pessoas, pelo nosso património único e riquíssimo, pelas suas muitas horas de sol e pela nossa belíssima e extensa costa atlântica (1230 km em Portugal continental, 667 km nos Açores, 250 km na Madeira).
Como destino de férias, Portugal sempre foi procurado pelas suas praias. Mas a escolha costuma recair no sul do país, com o Algarve no topo da lista. Mesmo os lisboetas e alentejanos, acabam por manter esta tendência, até porque estão mais perto do Sul. O que muitos ainda não sabem é que a Norte, e mesmo à volta do Porto, moram algumas das mais bonitas praias portuguesas. As praias do Porto oferecem condições únicas para a prática de desportos como o surf, o windsurf e o bodyboard. Além disso, na maré baixa, estas praias rochosas formam piscinas naturais maravilhosas para as crianças e são ricas em iodo. Depois, os acessos às praias são excelentes, os areais espaçosos, há ciclovias e passadiços ao longo da praia e muitas esplanadas e restaurantes de excelente qualidade. Na cidade, a Sul ou a Norte, estas são as melhores praias do Porto.
No Porto
A Foz do Porto é a praia da cidade. Fica numa das zonas mais nobres do Porto, onde o Douro desagua no Atlântico e a cidade se reencontra com o seu passado nobre e charmoso. Na verdade, a Praia da Foz designa o conjunto das praias do Ourigo, dos Ingleses, da Luz e do Carneiro. Esta última tem a particularidade de se situar junto ao Forte de São João Baptista, do século XVI, a que os portuenses chamam carinhosamente Castelo da Foz.
Apesar de o areal da zona ser pequeno, toda a área circundante é muito agradável, com amplos espaços verdes e esplanadas muito apetecíveis. Está bem apetrechada de ciclovias e é uma escolha habitual dos surfistas.
A Norte
As praias de Matosinhos começam junto ao Edifício Transparente, ao fundo do magnífico Parque da Cidade do Porto, na marginal marítima. Não há uma linha divisória que nos permita saber ao certo onde acaba o Porto e começa Matosinhos, já que as duas cidades estão completamente ligadas entre si. A Norte do Porto, Matosinhos tem uma história profundamente ligada ao mar e à pesca, e conta actualmente com 12 praias de Bandeira Azul. São praias alinhadas com cafés e esplanadas e há sempre desportos de praia à mão desde o surf ao volleyball e até à pesca desportiva. Algumas das melhores escolas de surf estão localizadas na costa de Matosinhos.
A praia de Leça da Palmeira é sem dúvida uma das melhores do Norte do país, com um areal extenso e uma zona circundante pensada de raiz para o deleite, com uma miríada de bons cafés, terraços e esplanadas. Esta praia tem duas maravilhosas piscinas de água salgada, das quais uma é só para crianças, construídas sobre as rochas e que permitem nadar em águas calmas enquanto se contempla a força do mar circundante. Encaixadas harmoniosamente na natureza selvagem de Leça, as Piscinas das Marés foram projectadas pelo arquitecto Álvaro Siza Vieira na década de 1960 e são um Monumento Nacional.
Mesmo ao lado, há um amplo passeio marítimo também projectado pelo Prémio Pritzker Siza Veira, e que se estende até ao Farol da Boa Nova, onde um passeio fica garantidamente na memória.
As praias de Matosinhos têm também as melhores condições para surf e bodyboard. Prova disso é que ainda na semana passada, o surfista Garret McNamara esteve a ensinar surf na Praia de Matosinhos. Além disso, a zona balnear de Matosinhos mantém-se viva à noite, com sunset parties e música ao vivo nas suas muitas esplanadas e terraços, onde se pode desfrutar de um cocktail, jantar ao ar livre ou simplesmente saborear um delicioso gelado.
A Sul
A cidade que partilha as seis pontes sobre o Douro com o Porto, Vila Nova de Gaia, tem 18 km de costa atlântica com o maior número de prais de Bandeira Azul de Portugal. Houve um considerável investimento para criar um passadiço de madeira em toda a extensão da costa atlântica de Gaia, permitindo um passeio com vista para o mar ao longo de todo o percurso.
A orla costeira de Gaia tem condições excelentes para ciclistas, já que tem uma ciclovia que faz a ligação ininterrupta da Foz do rio Douro ao concelho vizinho de Espinho. As praias de Gaia têm extensos areais e e são acompanhadas pela bonita vegetação natural dunar, que continua preservada. Longos passadiços de madeira convidam também a passeios relaxados à beira mar. Na maré baixa, formam-se piscinas naturais belíssimas entre os rochedos, altura em que se pode explorar a fauna aquática que aí encontra o seu habitat. Estas praias são também ricas em algas, com características terapêuticas reconhecidas.

Se procura uma praia de pescadores, visite a Aguda,que tem também um pontão com um farol que vale a pena contemplar, sobretudo ao pôr do sol. A praia de Miramar, com a sua romântica capela construída sobre as rochas, foi já considerada pelo site European Best Destinations como uma das 15 melhores da Europa, pelos seus passadiços renovados, a ciclovia, os bares e as suas dunas bem cuidadas. A praia de Salgueiros é uma das mais bonitas de Gaia, e está rodeada por vários cafés e restaurantes.
Numa frase, as melhores praias do Porto, com esplanadas convidativas para saborear a riquíssima gastronomia portuguesa, rodeadas por belíssimas áreas verdes protegidas, são o local perfeito para bons momentos na praia, uma corrida ao final da tarde ou um passeio de bicicleta.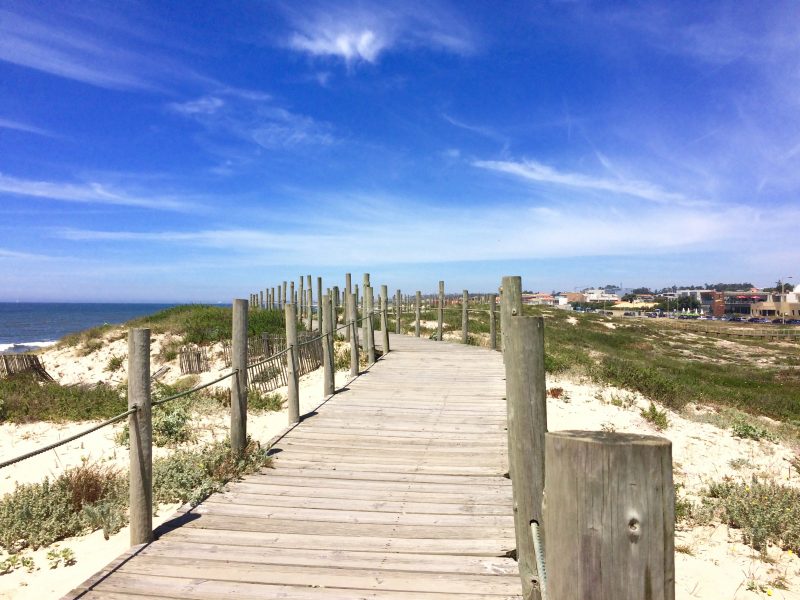 ENGLISH VERSION
What is the idea that comes to mind of a foreigner when he/she hears the word "Portugal"? Besides the most common answer that is, as you know, "Ronaldo", fortunately our country is increasingly known outside for the friendliness of the people, for our unique and rich heritage, for our many hours of sunshine and our beautiful and extensive Atlantic coast (1230 km in continental Portugal, 667 km in the Azores, 250 km in Madeira).
As an holiday destination, Portugal has always been sought for its beaches. But the choice usually goes to the South, with the Algarve on the top of the list for its sunny, calm water beaches. What many do not yet know is that the Northern part of the country, and even around Porto,has some of the most beautiful beaches. Porto beaches offer unique conditions for sports such as surfing, bodyboarding and windsurf. In addition, at low tide, these rocky beaches form wonderful natural pools for children and are rich in iodine. As a plus, accesses to the beaches are excellent, the beaches are very spacious, there are bike paths and walkways along the beach and many terraces and excellent restaurants. In Porto, to the South or to the North of the city, these are the best beaches you can go to.
In Porto
Foz do Porto is the city beach. It is one of the noblest areas of Porto, where the Douro river flows into the Atlantic Ocean and the city is reunited with his golden era. In fact, Praia da Foz is a designation of the ensemble of the Beaches of Ourigo, Ingleses, Luzes and Carneiro. The latter has the distinction of being located next to the Fort of St. John the Baptist, built in the sixteenth century, which the Porto inhabitants affectionately call Castelo da Foz (Foz Castle).
Although the area of thee beach is small, the surrounding spaces are absolutely enjoyable, with large green spaces and trendy terraces. It is well equipped with bike paths and is a common choice for surfers.
To The North, at Matosinhos
Matosinhos beaches start at the Edifício Transparente, a glass windowed building at the end of the magnificent Parque da Cidade of Porto, the city green area, by the sea. There isn´t a dividing line that allows us to know exactly where Porto ends and Matosinhos begins, since the two cities are completely linked.
With a deep connection to the sea and a long fishing history, Matosinhos currently has 12 Blue Flag beaches. The beaches are lined with cafes and terraces and there is always the possibility to practice beach sports from surfing to volleyball or even sports fishing. Some of the best surf schools are established along its coast.
The beach at Leça da Palmeira is undoubtedly one of the best of the North region of Portugal, with an extensive beach and a surrounding area conceived for enjoyment, with a myriad of good cafes, terraces and esplanades. This beach has two wonderful saltwater pools, of which one is exclusively for children, built on the rocks, allow swimming in calm waters while contemplating the waves force in the surrounding sea. Fitted harmoniously into the wild nature of Leça, the Piscinas das Marés (Tidal Pools) are a National Monument, designed by the architect Alvaro Siza Vieira in the 1960s.
Also designed by Pritzker Prize Siza Veira and right alongside the Tidal Pools, there is a broad promenade that extends to the Boa Nova Lighthouse, where a tour is guaranteed to gain a special place in your memories
The beaches of Matosinhos also have the best conditions for surfing and bodyboarding. Just last week, the surfer Garrett McNamara has been teaching surfing in Matosinhos Beach. In addition, the seaside of Matosinhos remains alive at night with sunset parties and live music in its many esplanades and terraces where you can enjoy a cocktail, dine al fresco or simply enjoy a delicious ice cream.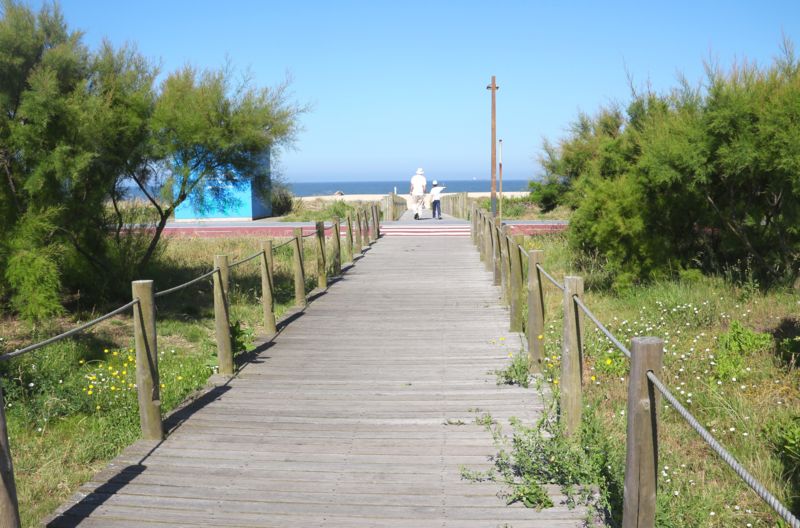 To the South, in Gaia
The city that shares the six bridges over the Douro with Porto, Vila Nova de Gaia, has 18 km of Atlantic coast and the highest number of Blue Flag beaches in Portugal. There has been considerable investment to create a wooden walkway that runs the full stretch of Gaia's coastline, providing a sea view along the entire route.
The coastline of Gaia has excellent conditions for bike lovers, as it has a bike path that makes a continuous connection from the Douro river mouth until the neighbouring municipality of Espinho.
Gaia's beaches have extensive beaches and unspoiled and beautiful natural dune vegetation. Long wooden walkways provide an excellent trail to walk or run along the the sea.


At low tide, Gaia's beaches form beautiful natural pools among the rocks, where you can swim and admire the aquatic fauna. These beaches are also rich in algae and iodine, with attested therapeutic characteristics.
If you are seeking a fishermen's beach, visit Aguda. There you can also stroll along the breakwater with a lighthouse worth contemplating, especially at sunset. The Miramar beach, with its romantic chapel built on the rocks, has already been considered by the European Best Destinations site as one of the 15 best in Europe. Its renovated footbridges, the bike path, the bars and their manicured dunes are the reasons for this deserved distinction. Salgueiros beach is one of the most beautiful of Gaia, and there you can find children's playgrounds, ice cream boutiques, several cafés and restaurants.
In a sentence, Porto's beaches, with inviting esplanades to indulge in the rich Portuguese gastronomy and surrounded by beautiful protected green spaces, are the ideal spot for some beach exercise, late afternoon run, long walk or bicycle ride. Enjoy!