Lembro-me de, ainda menina, chegar a Vila do Conde através da ponte sobre o rio e ficar surpreendida com o contraste entre a magnitude do edifício neoclássico do Mosteiro de Santa Clara e o casario baixo alinhado com um pequeno e bonito jardim. Hoje em dia este contraste ainda perdura e Vila do Conde é sobretudo uma cidade de arquitecturas antigas, nas casas e nos monumentos, deixando muito espaço para o lazer, ao ritmo de um tempo largo.
A cidade, aberta para o rio e para o mar, tem nas suas margens o melhor caminho para lhe conhecer a história, começando pelo jardim da Praça da República. Caminhando para ocidente pela marginal, chega-se a uma das maiores atrações de Vila do Conde: a belíssima Nau Quinhentista. Esta réplica foi concebida com base em investigações científicas e graças ao saber ancestral dos carpinteiros e calafates dos estaleiros vilacondenses, artífices de naus e caravelas. Ao visitar o seu interior, quase tornado vivo com uma série de esculturas humanas em cenas do dia-a-dia da vida a bordo, senti a dimensão da coragem dos nossos antepassados, que navegaram por longos períodos e com grandes dificuldades através de um mundo desconhecido, nestas embarcações tão vulneráveis quanto belas e engenhosas.
A realidade da vida marítima e das trocas comerciais passadas percebe-se melhor com uma visita à Alfândega Régia – Museu de Construção Naval, em frente à nau. Foi lá que, a partir do século XV, laboraram os estaleiros navais vila-condenses, que tanto contribuíram para a aventura dos Descobrimentos.
Mesmo ao lado ergue-se sobre um maciço rochoso um monumento que lembra uma construção mourisca: a Capela de Nossa Senhora do Socorro, com uma planta quadrada encimada por uma grande abóbada branca. Foi mandada construir no século XVIII por um piloto das carreiras da Índia e Japão, roteirista e responsável pela primeira tabela conhecida da classificação dos ventos. Na antiga zona ribeirinha e na nova marginal, o património convive com espaços de lazer e há uma série de restaurantes e bares onde apetece ficar.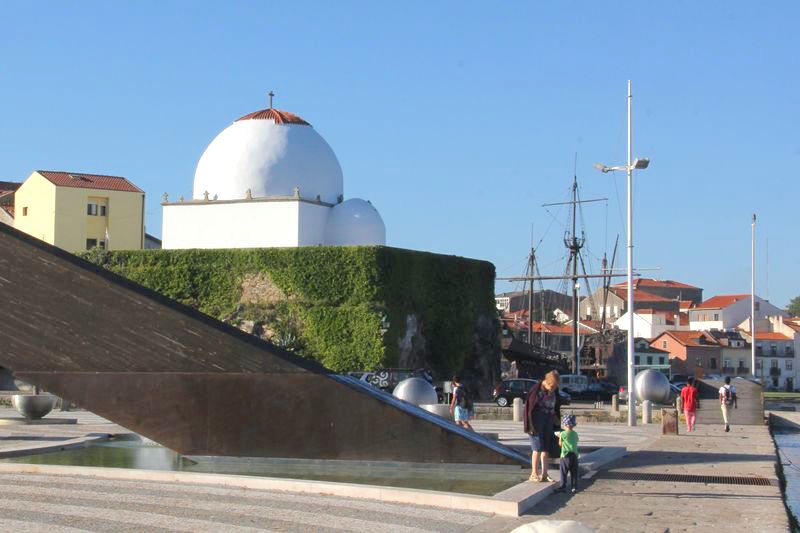 No centro da cidade, a Igreja do Mosteiro de Santa Clara exibe a sua beleza de linhas góticas que nos transporta para o imaginário dos castelos fortificados. Foi mandada erigir pelo filho bastardo do rei D. Dinis, D. Afonso Sanches e sua mulher, D. Tereza de Menezes, cujos túmulos são impressionantes obras manuelinas e podem ser visitados na Capela dos Fundadores. O fabuloso Aqueduto de Vila do Conde, o segundo mais extenso do país, termina junto ao Mosteiro. E não é por acaso: por incrível que possa parecer, esta obra de inícios do século XVIII, formada por 999 arcos e com cerca de 5 km de extensão, foi construída para levar a água da nascente, em Terroso, na Póvoa, até à cisterna e ao chafariz… do antigo Mosteiro de Santa Clara!  Este magnífico templo viria no entanto a perder algum do seu protagonismo quando, em 1777, se construiu o grande edifício neoclássico do Mosteiro de Santa Clara, que continua a dominar com elegância a paisagem da cidade.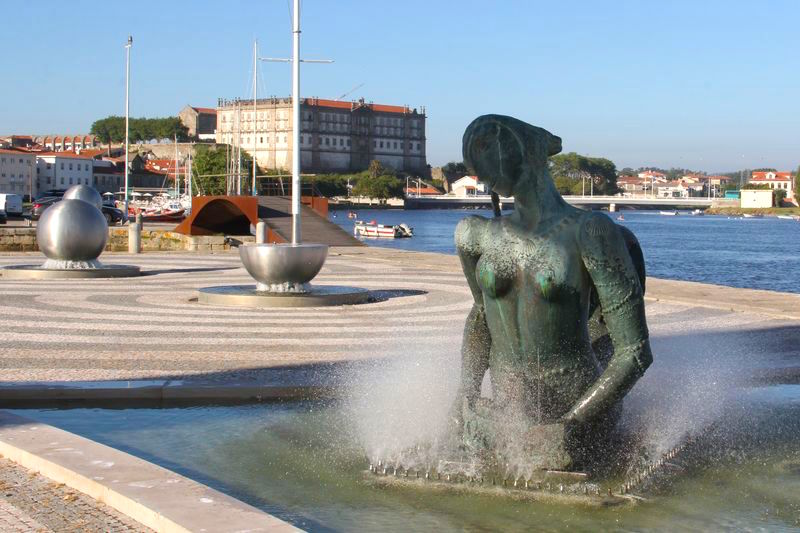 Além do mar e dos monumentos cuja história se funde com a de Portugal, a cidade soube honrar a tradição multi-centenária das rendas de bilros, uma arte delicadíssima. O Museu das Rendas de Bilros exibe, desde o ano passado, a maior renda de bilros do mundo, atestada como tal pelo Livro do Guiness. Nesta gigante renda multicolor laboraram mais de 200 rendilheiras, algumas das quais estão diariamente no museu a dedilhar os bilros para que possamos ver como as linhas dançam nas suas mãos.
Todas estas preciosidades são parte de Vila do Conde, mas há que aproveitar a chegada de Julho para viver mais uma edição do Curtas de Vila do Conde (de 14 a 22 de Julho), com uma homenagem ao cinema e à sua história.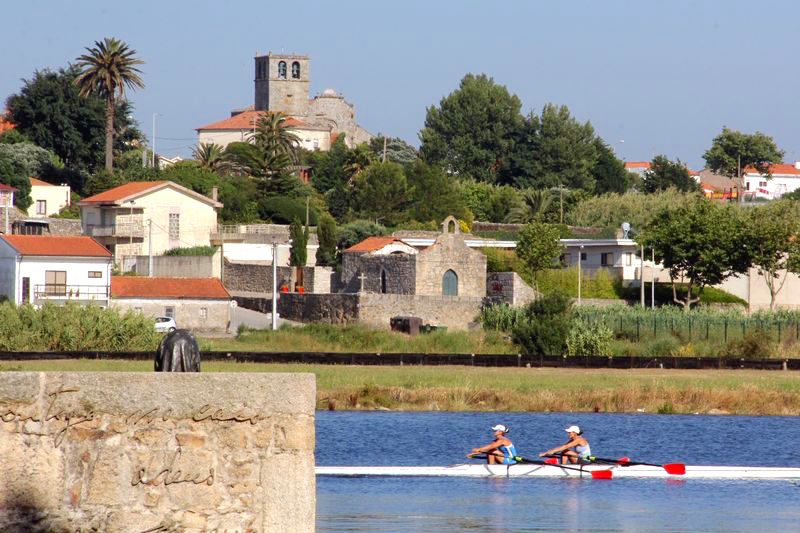 Os amantes do sol têm em Vila do Conde um destino especial. No Verão as suas praias, ricas em iodo, são uma boa terapia de saúde. Os habitantes desta região na Idade do Ferro já o deviam saber, pois construíram na sua costa marítima o Castro de São Paio, junto à praia com o mesmo nome, onde resistem gravuras rupestres inscritas nos rochedos. Porque esta é uma cidade inspirada na história.
I have a tender memory of the days, back when I was little girl, when I arrived at Vila do Conde by the bridge and was evermore surprised by the contrast between the magnitude of the neoclassical building of the Monastery of Santa Clara and the low houses aligned with a small and beautiful garden. Today this contrast still lingers and Vila do Conde is primarily a city of ancient architectures, houses and monuments, with a myriad of leisure options, allowing long, memorable journeys.
The city, that opens to the river and the sea, has on its banks the best way to get to know his history, starting at the Garden of Praça da República. Walking to the west by the river, we arrive at one of the biggest attractions of Vila do Conde: the real-size replica of beautiful 15th century ship. This design of this ship was based on scientific research and thanks to the ancestral knowledge of the carpenters and caulkers of shipyards of this town, which also contributed with caravels to the Portuguese Discoveries. By visiting the interior of the ship, you get a real sense of time travel thanks to the series of human life-size figures in day-to-day life scenes of on board, I understood the dimension of the courage of my Portuguese ancestors, who sailed for long periods and with great difficulty through an unknown world, in these vulnerable but beautiful and ingenious vessels.
The reality of maritime life and past trade is better perceived with a visit to the Royal Customs – Shipbuilding Museum, in front of the ship. From the 15th century on, it was the base of Vila do Conde's shipyards.
Right next to the ship and the museum, standing on a rocky massif, lies a monument that resembles a Moorish building: the Chapel of Nossa Senhora do Socorro, with a large white dome on top of a square shaped base. It was built in the 18th century by a pilot of careers in India and Japan, writer and responsible for the first known classification of winds table. Along with the old neighbourhoods and the new riverside walk, heritage coexists with leisure facilities and a number of restaurants and bars where you feel like staying.
In the city center, the Church of the Monastery of Santa Clara shows the beauty of Gothic lines that transports us to the imagination of fortified castles. It was built under the orders of the D. Dinis king's bastard son, Dom Afonso Sanches and his wife, Dona Teresa de Menezes, whose impressive Manueline thumbs can be visited in the Chapel of the Founders. The fabulous Vila do Conde Aqueduct, the second longest in the country, meets its end in the Monastery. And it is no coincidence: incredible as it may seem, this work of the early eighteenth century, consisting of 999 arches and about 5 km long, was built to bring water from the spring in the nearby city of Póvoa de Varzim, to the cistern and fountain of… the former Monastery of Santa Clara! Makes you think of the immense power of the Clergy in those days.
This magnificent temple would however lose some of its importance when, in 1777, the great neo-classical building of the Monastery of Santa Clara was built. This extension of the monument continues to dominate the city landscape whit elegance.
Besides the sea and monuments whose history merges with that of Portugal, the city also honoured the centennial tradition of bobbin lace ("bilros") delicate art. The Museu dos Bilros displays, since last year, the largest bobbin lace piece in the world, certified as such by the Guinness Book. This giant multicoloured piece was toiled by over 200 lace makers, some of which are on a daily base in the museum to strum the bobbins so we can see how the lines dance in their hands.
All these wonders are part of Vila do Conde, but we have to take advantage of the arrival of July to enjoy another edition of Vila do Conde Short (July14-22), with a tribute to the cinema and its history. 
Sun lovers have in Vila do Conde a special destination. In summer its beaches, rich in iodine, are wonderful health therapy, you can take my word for it! The inhabitants of this region in the Iron Age must have already known this, since they built a village on its coastline called Castro of San Paio, along the beach of São Paio, where you can even see some petroglyphs inscribed on the rocks. After all, Because this is a city inspired in history.
 #VeraDantas #PortoEnvolto #porto #ViladoConde #LandscapePhotography #CityLandscape #Fotografia #Roteiro #VisitPortugal #PortoeNorte #Turismocádentro #Viajar #Travel #Cntraveler #Travelblogger #Bloggergirl #Blogging #TurismodePortugal