Text and Photos by Vera Dantas. All Rights Reserved
Assim que vem o frio e começa a nevar, sinto uma ânsia enorme de viajar até um destino com neve, e de preferência com uma das melhores estâncias de ski da Europa ocidental. Comecei a esquiar há muitos anos e tive o privilégio de me estrear no maior domínio esquiável do mundo: Les Trois Vallées, nos Alpes Franceses. Desde então já percorri uma série de estâncias, dos Alpes à Serra da Estrela, passando pelas Astúrias, em viagens que aumentam a minha paixão pelo ski.
Sabem que adoro Portugal, mas não me importava de ter Invernos brancos e uma estância de ski por perto. Quando vivi em Trier, na Alemanha, dos 8 aos 9 anos, ia para a escola com os meus amigos e levávamos um pequeno trenó de madeira pela mão. Sempre que passávamos por um pequeno monte de neve, deslizávamos à vez. Eu adorava a neve de tal maneira que até a comia! De volta a Portugal senti muitas saudades destes invernos nevosos e para mim a Serra da Estrela é um destino de sonho.
As soon as the cold comes and it starts to snow, I feel a huge urge to travel to a ski resort, specially if it is one of the best ski resorts in western Europe. Many years ago, I had the privilege of debuting in the biggest ski area in the world: Les Trois Vallées, in the French Alps. Since then I have traveled through a series of resorts, from the Alps to the Serra da Estrela in Portugal, passing through Asturias in Spain, on trips that increase my passion for skiing.
You know I love Portugal, but I wouldn't mind having white winters and a ski resort nearby. When I lived in Trier, Germany, from age 8 to 9, I would go to school with my friends and carry a small wooden sled by the hand. Whenever we passed through a small pile of snow, we slipped in turn. I loved the snow in such a way that I even ate it! Back in Portugal I really missed these snowy winters and for me Serra da Estrela is a dream destination.
Seja em que destino for, desde que haja neve e pistas para esquiar, tenho tudo para me sentir feliz. A experiência do ski começa com a viagem. Se for de avião, posso deleitar-me com uma visão de águia dos cumes brancos das montanhas e começo logo a antecipar o momento em que vou estar no topo delas, a absorver a imensidão de pistas e paisagem para esquiar e a decidir qual será a pista seguinte que me terei coragem de descer. Se for de carro, delicio-me com a sensação de desbravar a estrada até chegar às montanhas e começar a subir, sentindo o ar a ficar rarefeito e a temperatura a baixar até chegar ao destino. As paisagens que me acolhem são sempre únicas e moldam-se de acordo com os nevões, as chuvas e o vento, enaltecendo vilas e aldeias que permanecem no tempo.
Whatever the destination, as long as there is snow and ski slopes, I have everything to feel happy. The skiing experience begins with the journey. If it is by plane, with an eagle eye view of the mountains white peaks, I begin to anticipate the moment when I will be on top of them, contemplating the immensity of slopes and landscape to ski and decide what will be my next track. Going by car, I am delighted with the feeling of climbing up the road to the mountains and feeling the air become thin and the temperature to lower until I reach my destination. The landscapes that welcome me are always unique and shaped according to the snow, the rains and the wind, with villages proud of their mountain heritage.
As estradas sinuosas abrem-se em miradouros naturais sobre pacíficos vales e majestosos lagos. Tingidas de branco, as montanhas revelam florestas e exibem camadas de neve que se estendem até à estrada. Viajar para a neve é também atravessar grandes túneis escavados nas entranhas dos maciços, oscilando entre a escuridão profunda e a forte luminosidade à saída. Gosto especialmente de ver as estalactites de gelo que pendem das entradas das várias passagens subterrâneas e das rochas ao longo do caminho, animadas por pequenos cursos de água que se vão libertando com o degelo.
The winding roads open on natural viewpoints over peaceful valleys and majestic lakes. Tinged with white, the mountains reveal forests and display layers of snow that stretch to the roadside. Traveling to a ski resort also means going through large tunnels dug into the bowels of the massifs, passing from a deep darkness to the the bright light at the exit. I especially like to see the ice stalactites that hang from the entrances of the various tunels and also in the rocks along the way, that also reveal small streams of icy water.
É sempre bom chegar ainda de dia. Mas a chegada a uma estância alpina à noite, depois de uma viagem de avião e de um longo transfer montanha acima (por estradas que me fazem perguntar como é que um autocarro consegue circular por ali sem cair), tem um encanto especial. As vilas das estâncias são encantadoras à noite, quando a iluminação ganha um calor dourado a contrastar com um impressionante céu repleto de estrelas. Se for para jantar num restaurante de montanha ao calor da lareira e em boa companhia, ainda melhor.
It is always great to arrive by day. But the arrival at an alpine resort at night, after a plane trip and a long mountain transfer up (by roads that make me wonder how a bus can get around without falling), conveys a special feeling. The resort villas are charming at night, when the lighting gains a golden warmth in contrast with an impressive sky full of stars. If you go to dinner at a mountain restaurant in the heat of the fireplace and in good company, even better.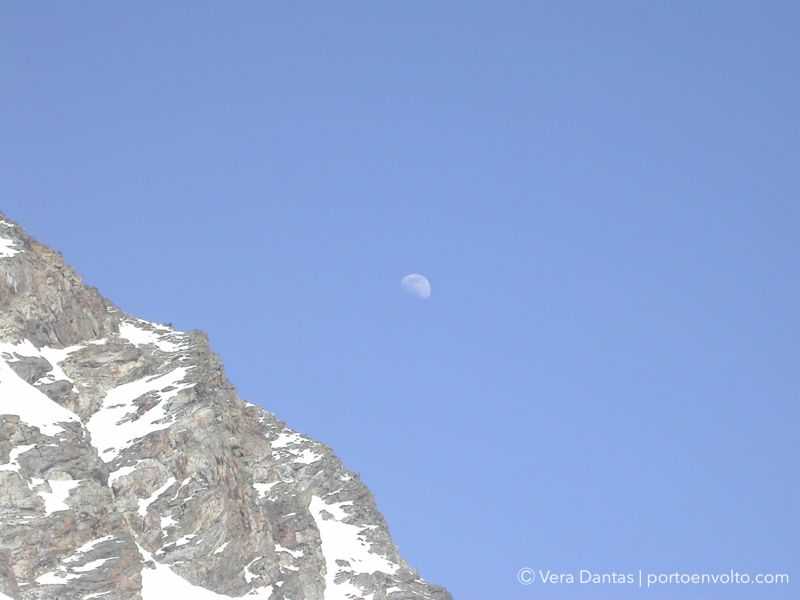 Seja em que estância for, quem vai pela primeira vez deve sempre aprender as técnicas com os experientes instrutores de ski. Aprendi a esquiar em Val Thorens com a École du Ski Français (ESF), a maior e mais antiga escola de ski no mundo. Os instrutores de ski deslizam pelas pistas e montanhas, fora de pista (hors piste), com um agilidade surpreendente, própria de quem quase nasceu a esquiar. E isso só é possível quando se vive perto de uma estância de ski. Esquiar, fazer snowboard ou cross-country é-lhes tão natural como caminhar.
Whichever resort it is, first time goers should always learn the techniques with experienced ski instructors. I learned to ski in Val Thorens with the École du Ski Français (ESF), the largest and oldest ski school in the world. The ski instructors glide along the slopes and mountains, hors piste, with an amazing agility, characteristic of those who were almost born ski.iing And this is only possible when you live near a ski resort. Skiing, snowboarding or cross-country is as natural as walking to the natives.
Ao fim do primeiro dia, depois de algumas quedas e encontrões, já conseguia equilibrar-me e esquiar lentamente e depois de 5 dias de aulas alcancei um progresso que me permitiu desfrutar das pistas dos níveis verde ao vermelho. É preciso lembrar que Val Thorens faz parte dos Trois Vallées, três vales e 6 estâncias interligados por meios mecânicos e 600 kms de pistas, entre os 1300 e os 3200 metros de altitude.
As encostas são magníficas, com muito boa exposição solar. É frequente ver trenós puxados por belíssimos cães (os "chiens de traineaux"), grupos de escalada no gelo, praticantes de ski cross-country e até ski com parapente.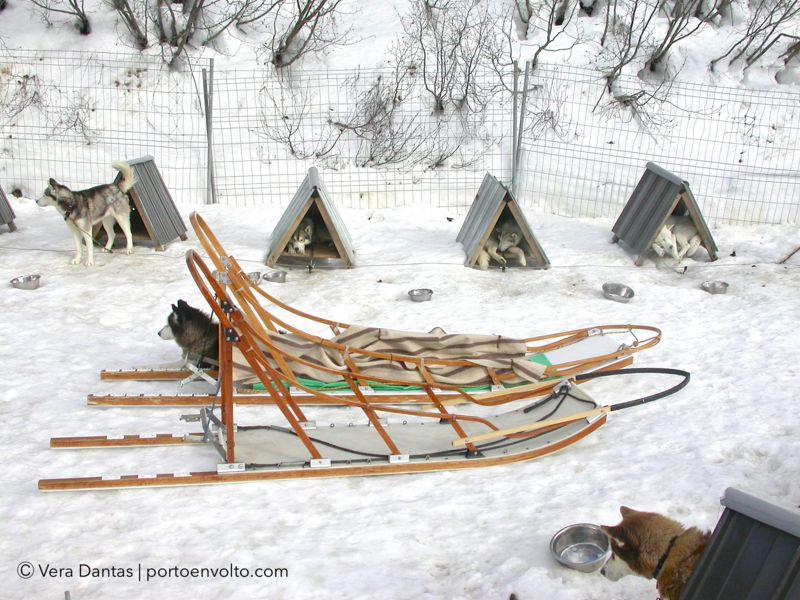 By the end of the first day, after a few falls and bumps, I was able to balance and ski slowly and after 5 days of classes I achieved progress that allowed me to enjoy the tracks from green to red levels. It should be remembered that Val Thorens is part of the Trois Vallées, three valleys and six ranches interconnected by mechanical means and 600 km of tracks, between 1300 and 3200 meters in altitude.
The slopes are magnificent with very good sun exposure. You will often see sledges pulled by beautiful dogs (the "chiens de traineaux"), ice climbing groups, cross-country skiing and even skiing with paragliding.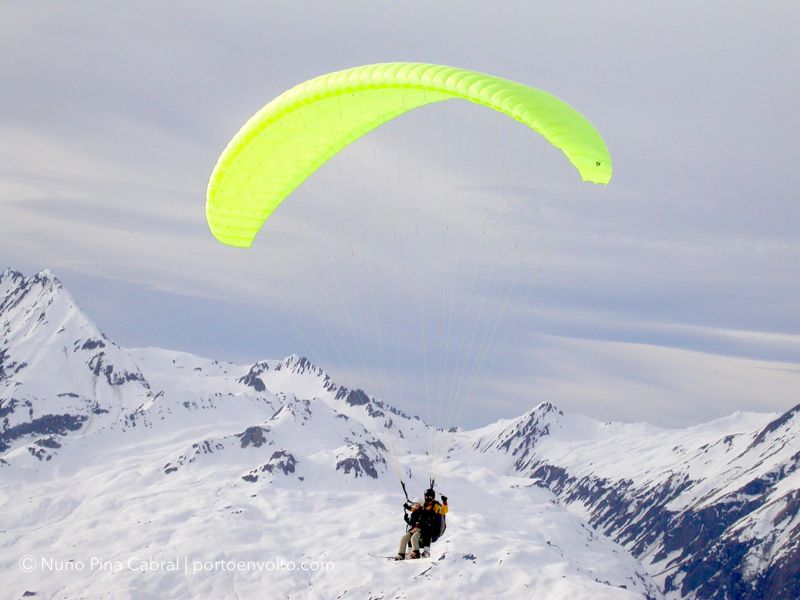 Nas maiores estâncias há parques de neve para ousados saltos de ski e que vale a pena ver ou experimentar – eu tentei uma vez e foi o suficiente para perceber que não é nada fácil. O melhor mesmo é observar alguns dos melhores snowboarders e esquiadores do mundo nas vertiginosas pistas pretas.
In the larger resorts there are snow parks for daring ski jumps and they are worth seeing or experiencing – I tried it once and it was enough to realize that it is not easy at all to achieve. The best thing is to watch some of the world's best snowboarders and skiers on the dizzying black slopes.
O movimento do corpo quando se está em cima de uns skis não tem nada de instintivo. Equilibrar-se nos skis, contornar as bossas e descer em velocidade sem correr riscos requer muito treino. Aprendi cedo que, caso estivesse a perder o controlo e a aproximar-me demasiado de um precipício, deveria fazer exactamente o contrário do que faria se estivesse sem skis: inclinar o dorso para o precipício e deixar as pernas deslizar para o interior da pista. Adoro esquiar porque me sinto capaz de controlar os riscos e aprendi a fazê-lo com instrutores muito experientes. É um investimento que vale muito a pena.
The movement of the body when one is on top of the skis is nothing instinctive. Balancing on the skis, skirting the bosses and going down at speed with minimum risk requires a lot of training. I learned early that if I were losing control and getting too close to a cliff, I should do exactly the opposite of what I would do if I were without skis: leaning back to the cliff and letting my legs slide into the lane. I adore skiing because I feel able to control the risks and I have learned to do it with very experienced instructors. It is an investment well worth it.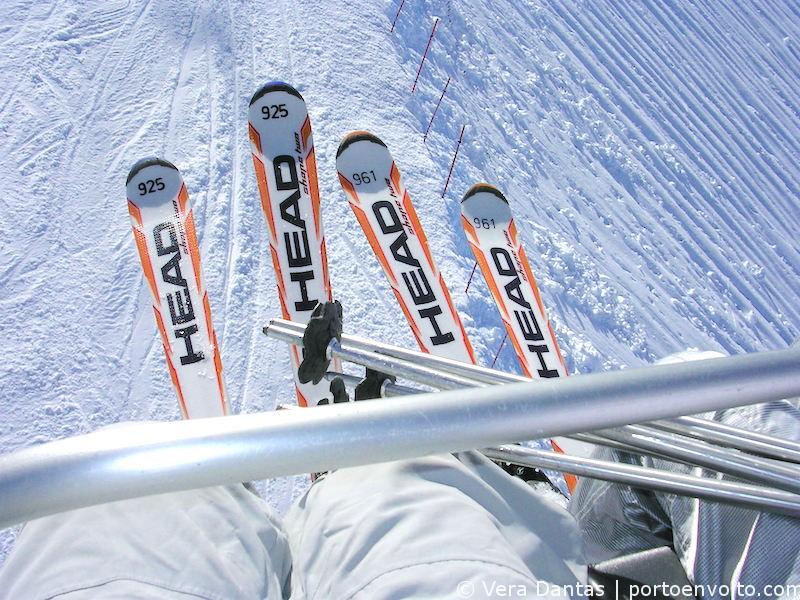 Uma das melhores sensações que vivi na minha vida foi esquiar a grande altitude e fora de pista em Les Arcs. Já muito afastada dos meios mecânicos, pude viver a experiência arrebatadora do silêncio absoluto. Sob os meus skis, neves eternas fofas e profundas acumuladas ao longo de muitos anos – são camadas de neve que só se formam nos mais elevados topos das cadeias montanhosas, como os Alpes europeus, e que não derretem, mesmo durante o Verão, devido à baixa temperatura local.
One of the best sensations I have experienced in my life was skiing at high altitude and off-piste in Les Arcs. Already well distanced from the mechanical means, I could live the sweeping experience of absolute silence. Under my skis, snowy and deep eternal snows accumulated over many years – are layers of snow that form only at the highest tops of mountain ranges, such as the European Alps, and which do not melt even during the summer due to Low local temperature.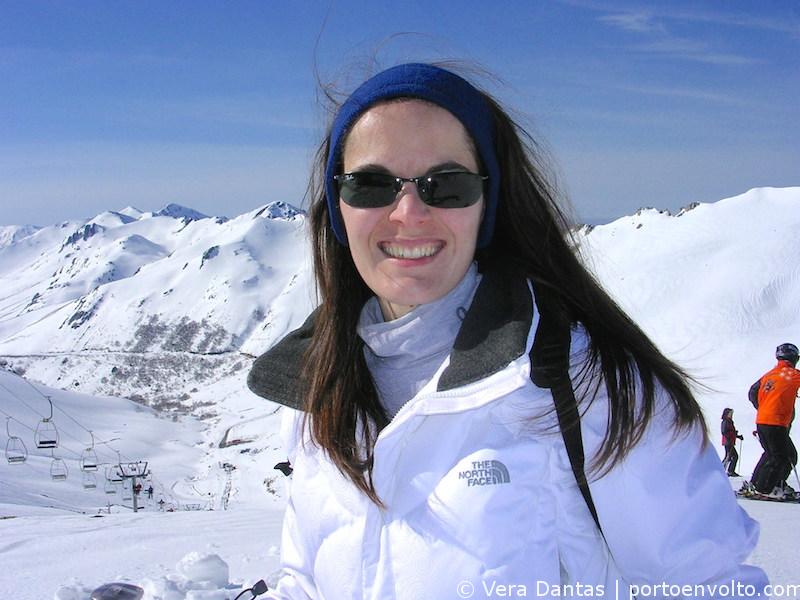 Estar numa grande estância de desportos de inverno é também usufruir de pistas que começam e terminam quase em frente aos alojamentos e que dispensam longas caminhadas com os skis nos ombros. E como é bom acordar e começar a esquiar mal se sai da porta!
Val Thorens, Val D'Isère, Courchevel, Les Menuires, Méribel e Les Arcs são estâncias onde pude viver essa experiência. Depois de fantásticos dias a esquiar, tinha à minha espera momentos inesquecíveis de aprés-ski. Os meus pratos alpinos favoritos são as deliciosa raclettes de queijo e os suculentos fondues de carnes, companhados de um bom vinho francês, num ambiente tipicamente montanhês com uma calorosa lareira acesa. Há muitos bares e festas todos os dias, para quem não se importa de não estar nas pistas logo de manhã.
Adoro entrar nas charmosas lojas gourmand onde desfilam aromáticos e deliciosos queijos e charcutarias de montanha – não há viagem aos Alpes em que eu não volte a Portugal com uns quantos salames com ervas aromáticas na mala. E há sempre uma crêperie por perto. Muito do comércio local é gerido pelos profissionais ligados ao ski, dando vida às vilas fora da época alta da neve. Nem todos são nativos das montanhas, mas os que se mudaram para lá parecem ainda mais apaixonados pelo mundo branco em que escolheram viver.
Bem mais perto de casa, a estância da Serra da Estrela é um bom local para um primeiro contacto com os desportos de Inverno, para ir em família e sobretudo com crianças. E é também uma estância ideal para matar saudades do ski num fim de semana. Gosto especialmente de sentir que estou no meu país e, claro, de saborear a nossa gastronomia.
Being in a large winter sports resort is also to enjoy runs that begin and end almost in front of the lodgings avoiding long walks with the skis on your shoulders. And how I love to wake up and start skiing as soon as I walk outside!
Val Thorens, Val D'Isere, Courchevel, Les Menuires, Méribel and Les Arcs are places where I could live this experience. After a fantastic skiing day, I had unforgettable après-ski moments waiting for me. My favourite Alpine specialities are the delicious cheese raclettes and the succulent steak fondues, accompanied by a good French wine, in a typically mountainous environment with a warm fire. There are many bars and parties every day, for those who do not mind not being on the lanes in the morning.
I love entering the charming gourmand stores with aromatic and delicious cheeses and mountain delicacies – there is no trip to the Alps in which I do not return to Portugal with a few salamis in the suitcase. And there is always a crêperie nearby. Much of the local trade is managed by ski professionals, giving life to the villages outside the high snow season. Not everyone is a native of the mountains, but those who have moved there seem even more passionate about the white world in which they chose to live.
Much closer to home, the resort of Serra da Estrela is a good place for a first contact with winter sports, to go with family and especially with children. And it is also an ideal ski resort to ski for a weekend. I especially like to feel that I am in my country and, of course, to enjoy our unique gastronomy.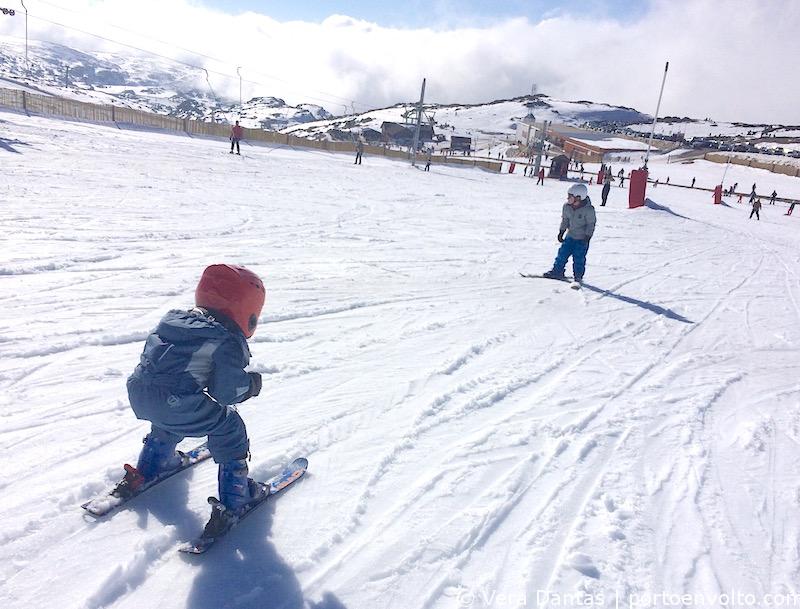 Para mais espaço esquiável, as estâncias de Espanha são destinos a não perder. Gostei especialmente dos dias que passei em San Isidro, uma estância de média dimensão com pistas espaçosas e luminosas.
For more skiing space, the resorts of Spain are destinations not to be missed. I especially enjoyed the days I spent in San Isidro, a medium-sized resort with spacious and bright slopes.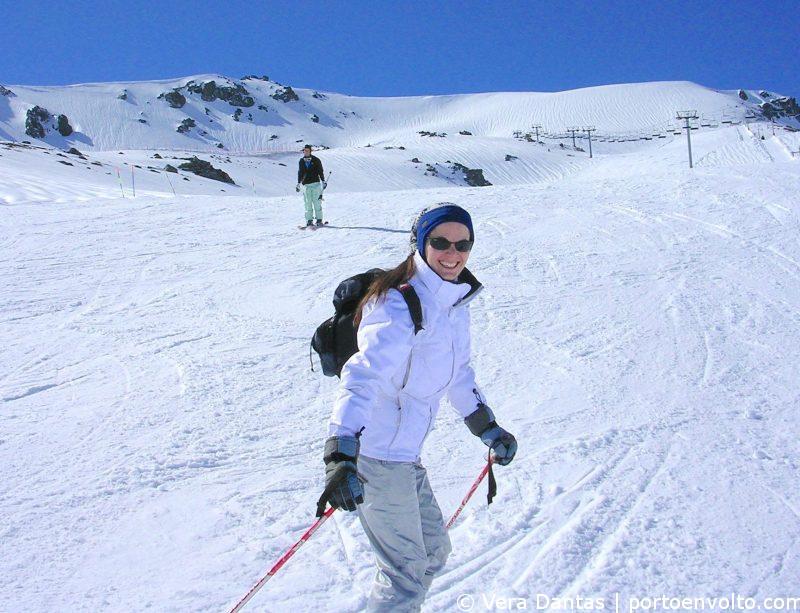 Pela sensação de descoberta, o misto de paz interior e adrenalina e espaço infinito à minha volta, a minha paixão pelo ski mantém-se muito viva.
For the sensation of discovery, the mixture of inner peace and adrenaline and infinite space around me, my passion for skiing remains very alive.
#ski #skiresort #valthorens #lestroisvallées #esquiar #wintervacations#winter #snow #snowdestination #courchevel #valdisere #meribel#espacekilly #sanisidro #serradaestrela #viajar #travel #travelblogger #westerneurope #europaocidental #europa #europe #neve #estanciasdeski #bestskiresorts #topski #skistyle #sportsblogger