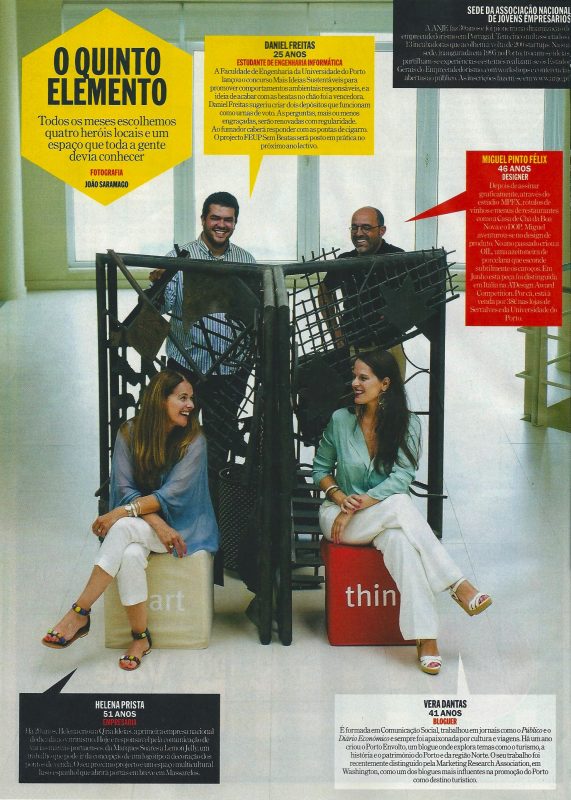 Tive o privilégio de ter sido convidada pela Time Out Porto convidou-me a figurar na rubrica "O Quinto Elemento", na edição de Setembro, que já está nas bancas.
Todos os meses, a Time Out escolhe o que chama de "quatro heróis locais"e um espaço que toda a gente deve conhecer"(daí o nome de "Quinto Elemento")  e publica o resultado – uma foto de grupo e um resumo do "feito" de cada convidado na última página da revista. O espaço escolhido foi a Associação Nacional de Jovens Empresários. O que a Time Out diz de mim:
"Vera Dantas. É formada em Comunicação Social, trabalhou em jornais como o Público e o Diário Económico e sempre foi apaixonada por cultura e viagens. Há um ano criou o Porto Envolto, um blogue onde explora temas como o turismo, a história e o património do Porto e da região Norte. O seu trabalho foi recentemente distinguido pela Marketing Research Association, em Washington, como um dos blogues mais influentes na promoção do Porto como destino turístico".
Na foto estou ao lado da simpática Helena Prista, empresária da agência de comunicação Q'ria Ideias. Acho que ficamos muito bem ao lado uma da outra, assim como os nossos projectos de comunicação, não acham?
ENGLISH VERSION
I have the privilege of being in "The Fifth Element" article of the September issue of Time Out Porto magazine.
Every month, Time Out selects what it calls "four local heroes and a space that everyone should know(hence the name "Fifth Element") and publishes the result – a group photo and a summary of "the achievement" of each guest at the last page of the magazine.
The space chosen was the National Association of Young Entrepreneurs in Porto. What Time Out Porto says about me:
"Vera Dantas. Graduated in Social Communication, she worked in newspapers such as Público and Diário Económico and was always passionate about culture and travel. A year ago she created Porto Envolto, a blog which explores themes of tourism, history and heritage in Porto and Northern Portugal. Her work was recently distinguished by the Marketing Research Association in Washington as one of the most influential blogs in promoting Porto as a tourist destination. "
In the picture I am sitting next to the friendly Helena Prista, the CEO of Q'ria Ideias communications agency. I think we look quite well next to each other, as well as our communication projects, don´t you?
#veradantas #portoenvolto #timeout #porto #portoenorte #media #timeoutporto #press #blogger #bloggergirl