In the picture above you can see me at the end of a walking tour with a wonderful group of visitors from the US. In the end I got a hug! – And a very nice review on TripAdvisor too (See it bellow).
Visite o Porto comigo!
Tour Porto with me!
Visitez Porto avec moi!
Venga a Porto conmigo!
Como apaixonada pela cidade, conhecedora da sua história e atenta a cada novidade (e são muitas!), posso levá-lo numa visita guiada inesquecível. Vamos percorrer o Porto a pé e descobrir perspectivas únicas da cidade., incluindo os melhores lugares para fotografar. Numa visita feita à medida ou numa das visitas temáticas que preparei, contacte-me com a sua ideia. Marcamos encontro? Até já!
Walking Tours (com possibilidade de passeio de eléctrico ou funicular incluídos)
Pick up no hotel, se situado no centro da cidade do Porto ou Gaia.

Grupos de 2 a 8 pessoas.

Duração: 1 a 4 horas/ todo o dia.

Orçamento sob consulta.
     Questões e reservas: 

vera.dantas@portoenvolto.com
Querem saber o que dizem das minhas visitas? Vejam aqui este comentário do Jim, da Florida, que eu levei pelo Porto em parceria com a Oporto & Douro Moments: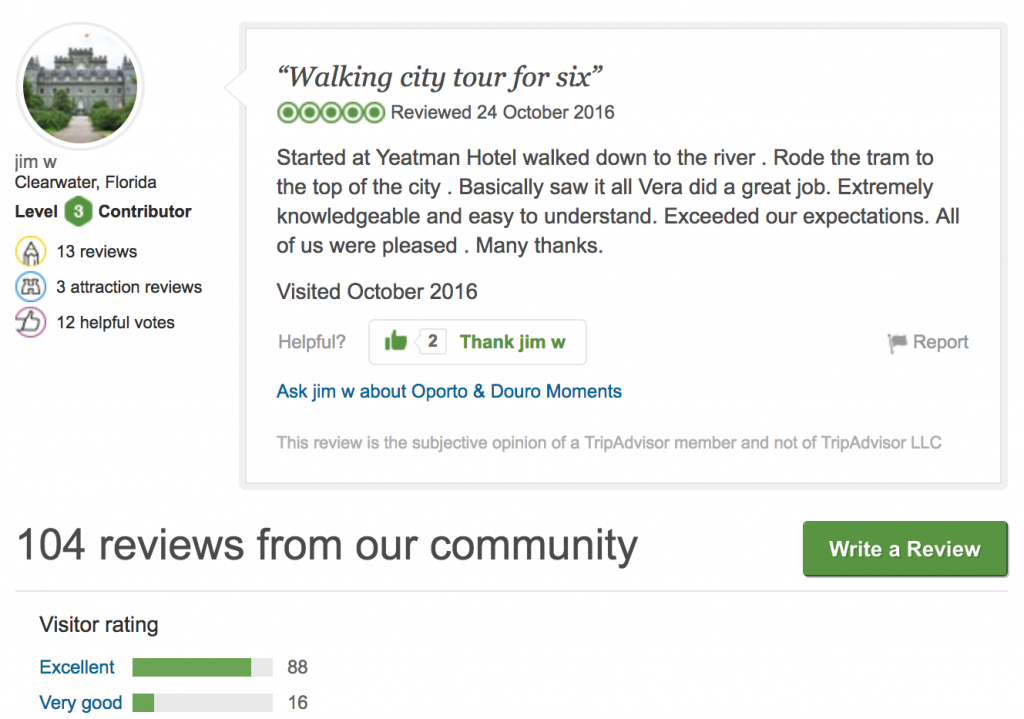 Being a p

assionate about Porto, knowledgeable about its history and attentive to every novelty (and there are many!), I can take you on an unforgettable guided tour.

W

alking through the city, I will

show

you

its most beautiful

sites, including the best photography opportunities, 

along with the

most enchanting stories

that make it unique

.

Just

contact me

for a tailor-made walking tour. Do we have a date?
Walking Tours (with possibility of tram and funicular tour included)
Pick up at the hotel of your stay, if central.

Groups from 2 to 8 people.

Duration:

1 to 4 hours/ All day.

Budget on request.
     Enquiries and reservations to vera.dantas@portoenvolto.com
Comme passionné de la ville, conna

isseuse de

son histoire et attentif à chaque nouvelle (et

combien de nouvelles

on y a

!

),

j

e vais vous guider

 dans

un promenade

inoubliable.

Je vais vous guider a travers les plus beaux sites de Porto

.

Contactez-moi

pour une visite

sur mesure.

Nous nous rencontrons?
Visites Guidées à pied
Pick up au hotel de votre séjour, si central.

G

roupes de 2 à 6 personnes.

D

uration de 1 a 4 heurs ou tout la journée

Budget sur demande.
Demandes et réservation:  vera.dantas@portoenvolto.com
Como apasionada de la ciudad, conocedora de su historia y atenta a cada novedad (y siempre hay muchas!), yo te guiré en un paseo inolvidable. Te llevaré a los lugares más fantasticos de Porto. Ponte en contacto conmigo para una excursión a medida. ¿Nos encontramos?
Excursiones a pie
Recogida en el hotel de su estancia, si es central

Grupos de 2 a 6 personas

Duración de 1 a 4 horas o durante todo el día

Presupuesto mediante consulta
Consultas y reservas: vera.dantas@portoenvolto.com
ou…
Planeie a sua viagem com a minha ajuda!
Se vem ao Porto e precisa de ajuda no planeamento da sua viagem, eu posso ajudar.
Traço-lhe roteiros personalizados para explorar por si o melhor da cidade, da chegada à partida. Os percursos mais bonitos e os monumentos a não perder, os melhores locais para fotografar, os transportes para descobrir a cidade ao ritmo certo, as mais tentadoras lojas e ainda os melhores restaurantes (dos tradicionais aos de estrela Michelin) para se deleitar com a nossa gastronomia e vinhos. Conte-me qual é a experiência que procura e pode estar seguro de que vai ter uma boa viagem! (Orçamento sob consulta – 

vera.dantas@portoenvolto.com

)
0r..
Plan your journey with my help!
If you come to Porto and need help planning your journey, I can help.
Trace you personalised itineraries to explore for yourself the best of the city, from arrival to departure. The most beautiful routes and monuments not to be missed, the best places to photograph, transportation to discover the city at the right pace, the most tempting shops and even the best restaurants (from traditional to the awarded with Michelin stars) to enjoy our gastronomy and wines. Tell me what experience you are looking for and you can be sure that you will have a great trip!
(Budget on request – 

vera.dantas@portoenvolto.com

)