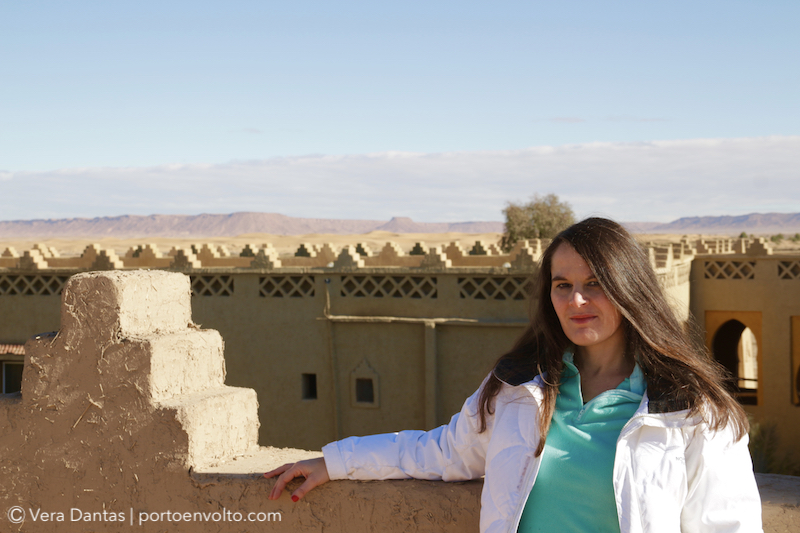 O Rally Dakar 2019 está prestes a arrancar por isso esta é a altura de recordar a minha viagem a Marrocos há quase um ano, em que viajei de jipe pelas pistas do Rali Dakar no deserto do Saara, uma experiência que quero repetir. A expedição começa agora!
Depois de uma passagem por Casablanca, apanhámos o voo interno para Errachidia, onde uma caravana de jipes nos esperava para nos levar ao Hotel Xaluca Maadid em Erfoud. Chegámos pelas 11 da noite, numa noite muito escura, por isso não tinha ainda noção da paisagem em que me encontrava. No dia seguinte, depois de uma visita ao hotel em que tivemos o primeiro vislumbre do deserto a partir de um grande terraço, a caravana partiu pelas dez da manhã.
On my first trip to the south of Morocco, I traveled by jeep on the tracks of the Dakar Rally in the Sahara desert, an experience that I want to repeat and strongly recommend. The expedition begins now!
After a passage through Casablanca the day before, we had arrived to the Errachidia airport at 11 p.m., where a caravan of jeeps awaited to take us to the Hotel Xaluca Maadid in Erfoud. The next day, after a visit to the hotel where we had the first glimpse of the desert from a large terrace, the caravan left at ten in the morning.
No programa de viagem lia-se "Dia consagrado ao deserto" e essa foi a principal razão de eu ter aceite de imediato o convite do Turismo de Marrocos e da Royal Air Maroc para visitar o Sul do país. As minhas expectativas eram grandes, portanto. E foram superadas.
Sol. Céu límpido, azul e claro. Rosa, amarelo, bege e preto dominam a paisagem. Terminada a estrada de asfalto, a viagem faz-se por terreno plano, pontilhado de pedras negras que brotaram das montanhas circundantes. Do lado esquerdo surge uma espécie de cordilheira de ondas negras, dando a impressão de que uma mão gigante comprimiu porções de terreno de modo a sobrepô-las harmoniosamente.  
Não há vivalma à nossa volta, parece-me. Mas eis que de repente vejo uma silhueta surgir no meio desse nada: é um berbere, caminhando aparentemente sem propósito, sem objectivo. Alguns 500 metros mais atrás, está a sua tenda, abrigada no sopé de uma pequena montanha negra. É, como foi para os seus antepassados, há muitas gerações, o seu modo de vida, como já vos contei aqui.
Uma ou outra árvore brota do chão, sinal de que há vida, há água. Paramos para ver um poço antigo que ainda abastece de água os berberes que habitam na região. Mas ainda não se vê vivalma. Começam então a surgir dromedários, que pastam calmamente nas poucas ervas que têm para comer.
The travel itinerary for that Saturday said "Desert Day" and this was the main reason why I immediately accepted the invitation from Morocco Tourism and the Royal Air Maroc to visit the south of the country. My expectations were high. And they were overcome.
Sun. Clear, blue, bright sky. Pink, yellow, beige and black dominate the landscape. Once the asphalt road ends, the trip is made by flat terrain, dotted with black stones that have sprouted from the surrounding mountains. On the left side there is a sort of black ridge, giving the impression that a giant hand has compressed portions of land so as to overlap them harmoniously.
There isn´t a soul in sight, it seems to me. But suddenly I see a silhouette emerging in the middle of this nothingness: it is a Berber, walking seemingly, aimlessly. Some 500 meters further back lays its tent, sheltered at the foot of a small black summit. It is, as it was for his ancestors, for many generations, his way of life, as I have told you here.
One tree or another shoots from the ground, sign that there is life, there is water. We stop to see an old well that still supplies water to those who need it. But still we don't see a soul. Now and then we see dromedaries, calmly spending their time.
É com surpresa que vejo, um pouco mais à frente na viagem, surgirem crianças que nos acenam no caminho, sozinhas ou em pequenos grupos, mais ou menos longe de pequenas aldeias com casas feitas de uma argamassa de terra, água e palha. Acenam-me a sorriem. Eu aceno e sorrio de volta e pergunto-me como será o seu modo de vida, tão diferente do das nossas crianças.
A little further on the journey, I see children appearing and waving at us on the way, alone or in small groups, more or less far from small villages with houses made of mortar of earth, water and straw. They wave at me and smile. I wave and smile back and wonder what their way of life will be, so different from our way of life.
Ainda em terreno pouco acidentado, paramos em Merzane para ver a carreira de fósseis da distante era Paleozóica (primária), onde rochas escuras com mais de 300 milhões de anos ostentam sobretudo trilobites e graptólitos. Eram animais marinhos. Se pudesse viajar no tempo, estaria debaixo de água, porque este local já foi leito do oceano.
Mal saímos dos jipes, um pequeno grupo de vendedores aproxima-se com pequenas mala-mostruário que ostentam os fósseis trabalhados e polidos em forma de colares, ovos ou outras peças decorativas. O resultado é realmente bonito e não fica nada a dever a qualquer montra de objectos decorativos de luxo numa cidade ocidental. Pouco depois vejo a chegar, esbaforido, depois de correr sei lá que distância no meio daquela aridez, com os pés no que eram vislumbres de chinelos, um menino dos seus 8 anos. Com um aperto no coração, compro-lhe, por apenas 20 Dirhams (2 euros) um pequeno colar. Mais colegas fizeram o mesmo, todos ficamos com a imagem daquele menino gravada na memória, sentindo-nos impotentes e esperando, com alguma ingenuidade, que a vida dele possa vir a melhorar.
Still on sightly rough terrain, we stopped at Merzane to see the fossil career of the distant Paleozoic (primary) age, where dark rocks with more than 300 million years old mostly bear trilobites and grapollites. They were marine animals. If I could travel in time, I would be under water, because this place was once the ocean bed.
As soon as we got out of the jeeps, a small group of vendors came up with small briefcases that show off the worked and polished fossils in the shape of collars, eggs, or other decorative pieces. The result is really beautiful and doesn't fall short from any display of luxury ornaments in a western town. Shortly afterwards I see a small boy of about eight years of age arriving exhausted, after running, I don't know from how far in the midst of that aridity, with his feet in what were glimpses of slippers. With a tight heart, I buy him a small necklace for only 20 Dirhams (2 euros). More colleagues did the same, the memory of that boy will stay with us, that felt so impotent and hoped, perhaps naïvely, that his life may improve.
É a partir deste ponto que a viagem começa a ser mais Dakariana, como eu esperava. Queria sentir-me um pouco na pele da nossa grande piloto Elisabete Jacinto. Por uns breves minutos, os nossos jipes aventuraram-se por uma passagem estreita, rochosa e acidentada. A meio, parámos para admirar a paisagem que ficava para trás.
It is from this point on that the journey begins to be more Dakar-like, as I expected. I wanted to feel a bit in the shoes of our great Dakar Rally pilot Elisabete Jacinto. For a few minutes, our jeeps ventured down a narrow, rocky, bumpy passage. We stopped at the top to admire the landscape that we left behind.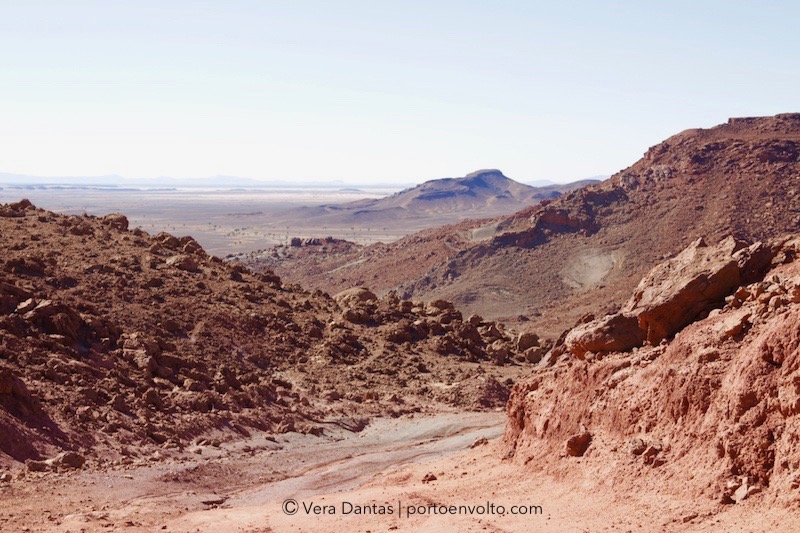 The landscape began to change. At last I reached the dunes which hours before seemed to me as they were floating like clouds, suspended above the mirage effect.
To the right, the Erg Chebbi, one of the two large sets of dunes of the Moroccan Sahara. These dunes extend over 22 km and up to 5 km wide. The largest of them reach 150 meters. To the left, a natural border of mountains separates Morocco from Algeria.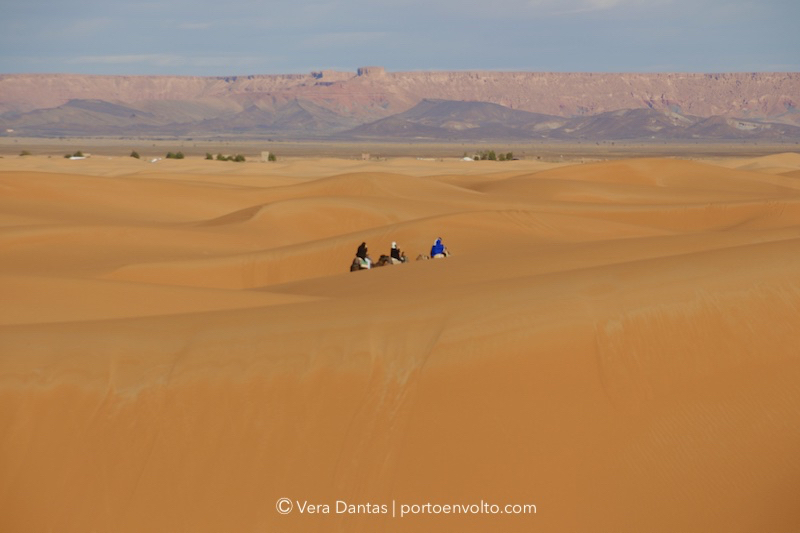 Quando finalmente começamos a viajar sobre a areia, depois de ter imaginado tantas vezes aquele momento, dei por mim a sorrir, a sorver cada momento. O meu condutor era o experiente Amar Ahachabou, o líder da caravana de jipes, mas mesmo assim algumas subidas e descidas pelas encostas inclinadas das dunas raiavam as sensações de uma expedição de aventura. Numa dessas manobras o jipe acaba por ficar completamente inclinado do lado direito (o meu lado), encalhado na areia. Com cuidado, eu os meus companheiros do veículo saímos, cheios de vontade, para a areia. Mais abaixo, os outros condutores ajudam o nosso guia a prender uma fita de reboque ao nosso jipe. Em menos de 3 minutos, o jipe é rebocado e fica pronto para seguir viagem. Aplaudimos a destreza com que os nosso guias resolvem o problema, ou melhor, a boa vontade com que montam este cenário de incidente para nós – afinal, era tudo uma brincadeira, com o objectivo de nos sentirmos na pele dos pilotos do Rali Dakar.
When we finally started to travel on sand, after having imagined that moment for so long, I found myself smiling, savoring every moment. My driver was the experienced Amar Ahachabou, the leader of the jeep caravan, but even so some ascents and descents along the sloping slopes of the dunes bore the sensations of an adventure expedition. In one of these maneuvers the jeep ends up being completely bent on the right side (my side) and got stranded in the sand. Carefully, I and my companions in the vehicle went, gladly, out into the sand. Further down, the other drivers help our guide to fasten a tow tape to our jeep. In less than 3 minutes, the jeep is pulled and ready to go. We applaud the skill with which our guides solved the problem, or rather the goodwill with which they set up this adventurous incident scenario for us – after all, it was all a joke, that allowed us to experience some of the sensations that Dakar Rally pilots face often.
Com os pés na areia, nenhum de nós tinha pressa de voltar para os jipes. Era tempo de contemplar as dunas. Subimos a uma duna bem alta. Lá no cimo pude ver a linha de areia perfeita que o vento penteava, separando o lado poente do lado nascente da duna.
A areia é finíssima, esvai-se por entre os dedos mesmo antes de conseguir levantar a mão. Macia, dourada quase côr de canela. Lentamente uma brisa vai moldando a duna. Imagino que as pegadas que agora imprimo na areia já não existam horas mais tarde. A sensação de estar envolta por uma paisagem natural belíssima, que permanece deserta, sem intervenção humana, há muitas eras, não tem preço, é maior do que consigo transpor para palavras. Ao mesmo tempo, fascina-me saber que o que vejo está em constante mudança, moldado apenas pelos elementos naturais.
With our feet in the sand, neither of us was in a hurry to return to the jeeps. It was time to contemplate the dunes. We climbed a very high dune. At the top I could see the perfect sand line the wind combed, separating the west side from the east side of the dune.
The sand is incredibly thin, it runs out through your fingers even before you can raise your hand. Soft, golden almost cinnamon. Slowly a breeze is shaping the dune. I imagine the footprints I now leave on the sand will no longer exist hours later. The feeling of being surrounded by a beautiful natural landscape, which remains deserted, without human intervention, for many ages, has no price, it is greater than I can translate into words. At the same time, it fascinates me to know that what I see is constantly changing, shaped only by the natural elements.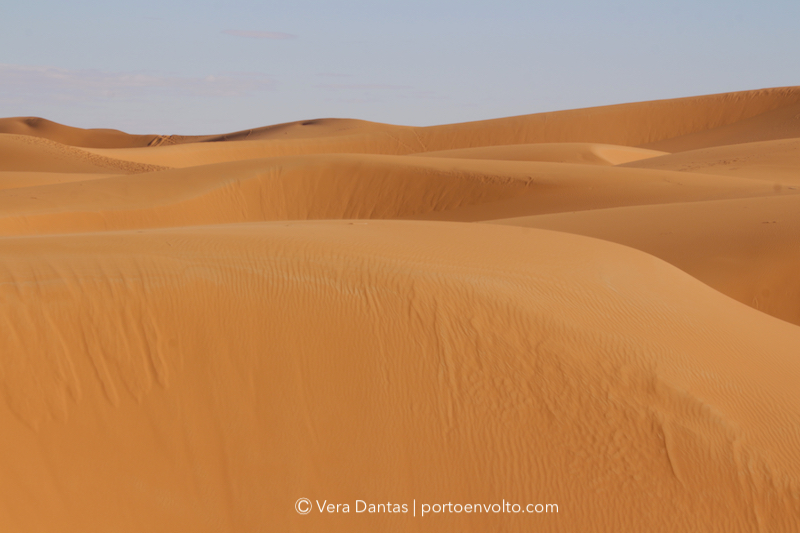 Fico com aquela sede de infinito que o deserto me deu, pelos breves momentos em que toquei na areia e pelas imagens que guardo na memória e que captei com a objectiva.
Esta foi a primeira parte de um dia de que não me esquecerei: em menos de 12 horas percorri as "estradas" do Rali Dakar, de Erfoud a Merzouga, tomei chá no deserto com uma família berbere, vi a carreira de fósseis, andei de dromedário ao pôr do sol e passei o serão entre uma fogueira sob um céu de estrelas infinito e uma tenda bivouac, dançando, ouvindo músicas e saboreando a gastronomia marroquina. E essas são outras histórias que vos vou contar.
Ao final da noite, quando chegámos ao fantástico Hotel Xaluca Tombouctou, em Merzouga, em que fiquei instalada num quarto digno da Xeherazade, a noite escura aquele castelo das arábias, escondia-me o seu melhor segredo: dormi, sem saber, em pleno deserto, no coração das dunas macias do Saara. Foi por isso com um misto de sensações de deslumbre e de perda que, na manhã seguinte, acordei no deserto, sem ter contemplado o despontar do dia sobre as cambiantes dunas envolventes. É que um dia no deserto não chegou para assimilar o efecito arrebatador, fora do tempo, que provocou em mim, mas foi mais do que suficiente para querer voltar.
The desert gave me that thirst for the infinite, in the brief moments in which I touched the sand and captured the landscape and the people with the my camera.
This was only the first part of a day that I wont forget: in less than 12 hours I rode the "roads" of the Dakar Rally, from Erfoud to Merzouga, I had tea in the desert with a Berber family, I saw ancient fossils, rode a dromedary at sunset spent the evening between a bonfire under an infinite star sky and a bivouac tent, dancing, listening to music and savoring the Moroccan gastronomy. And these are other stories that I will tell you soon.
At the end of the night, when we arrived at the fantastic Hotel Xaluca Tombouctou in Merzouga, where I stayed in a room worthy of Xeherazade, the dark night that surrounded that Arabian castle kept a secret from me: I slept unknowingly in the middle of the desert, in the heart of the soft dunes of the Sahara. It was with a mixture of sensations of wonder and loss that, in the next morning, I woke up in the desert, not having contemplated the dawn of day on the shifting surrounding dunes. You see, one day in the desert is not enough to assimilate the overwhelming effect it had on me, but it was more than enough to awake the will to return to its realm.
Como ir:
A Royal Air Maroc tem 4 voos directos semanais Porto/Casablanca/Porto às quintas, sextas, sábados e domingos.
Para fazer a ligação aérea de Casablanca a Errachidia tem 5 voos semanais (excepto segundas e sábados) às 22:40
.
How to go:
Royal Air Maroc has 4 weekly direct flights to Porto / Casablanca / Porto on Thursdays, Fridays, Saturdays and Sundays.
To make the airline connection from Casablanca to Errachidia you have 5 weekly flights (except on Mondays and Saturdays) at 22:40.
Nota: Viajei a  Marrocos convite do Turismo de Marrocos e da Royal Air Maroc. Todas as opiniões são minhas.
Disclaimer: I travelled to Moroccco at the invitation of Marocco Tourism and Royal Air Maroc. All opinions are my own.
#veradantas #portoenvolto #visitmorocco #turismodemarrocos #royalairmaroc @ram @turismodemarrocos @merzouga.rally #dakarmarocco #dakarlover
#marrocos #africa #saara #sahara #roadtrip #middleofnowhere #northafrica#desertlandscape #morocco #sahara#saharadesert #deserto #merzouga #visitmorocco #merzouga#ergchebbi #sanddunes
#BeBoundless#fubiz #theimaged #thecreatorclass#myfeatureshoot #weltraumzine #topcanonpt#freezfram#creativeimagemagazine #fdicct #YourShotPhotographer #subjectivelyobjective#yourshotphotographer #sanddunes #landscapes
#natgeotravel  #roadtrip #offroad #offroading#offroadnation
#desertscape #earthexperience#exploretocreate #outforadrive #roadtrips#landscapephotography #amazingplaces#travelphotography
#dakar #famtrip #visiterlafrique #dakar2018 #dakarrally