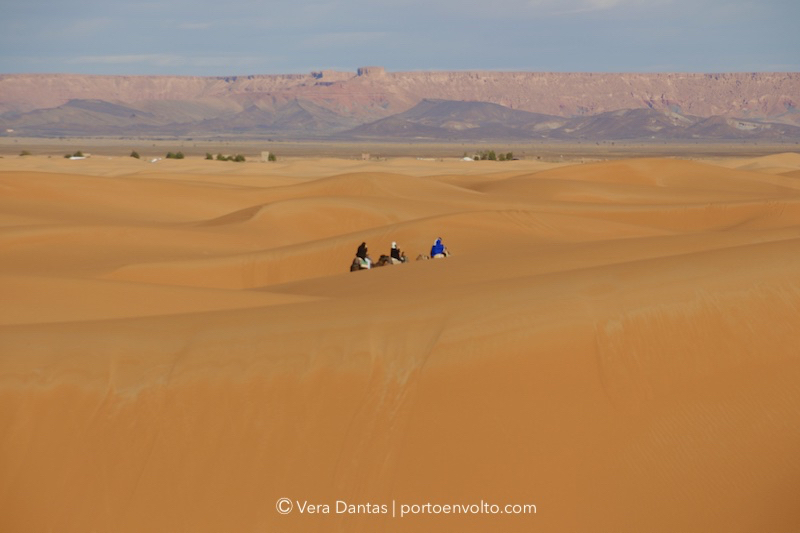 Amar Achabou foi o meu guia no deserto em Marrocos e é um berbére que tem o dom de fazer histórias. Conhece o Grande Erg Chebi como a palma da sua mão. Cada duna, cada desvio, cada oásis ou acampamento bivouac. É feliz, diz-nos, com um sorriso pleno que lhe ilumina o olhar. Tem uma mulher de toda a vida, a Jera, e 5 filhos, todos com nome de profetas. Tem oito irmãos e os seus pais nove irmãos cada. Não é por isso de estranhar que, ao longo da nossa viagem, nos fosse apontando a casa de tios ou primos, uma família que apesar de grande se mantém unida. Orgulha-se de ter em casa uma grande árvore genealógica que se estende não só em largura, mas também em altura, atravessando um passado de muitas histórias que fazem dele quem é: um berbere de Erfoud, cidade do Sudeste de Marrocos.
Os berberes, ou Amazigh, foram os primeiros habitantes de Marrocos. Na sua origem, eram nómadas, vivendo em tendas e deslocando-se de camelo. Mas são cada vez menos os que mantêm esse modo de vida. "Não trabalham, não querem ir para a cidade, onde temem não se integrar, não sobreviver. Subsistem com o rendimento das suas cabras", diz-nos Amar, que tem um primo nómada.
Amar (que se pronuncia "Omar") trabalha com o Grupo Xaluca e gosta do que faz: "Tenho um bom salário, uma boa família, uma casa com quintal, onde quero plantar tamareiras e vê-las crescer. Os meus filhos fazem-me uma festa quando chego a casa. E os meus subordinados respeitam-me", referindo-se à equipa de jovens guias que lidera deserto adentro, quase todos os dias.
Viajar com Amar é mais do que ser guiado pelas paisagens infinitas de Marrocos. Amar trata cada viajante com carinho, quer que todos se sintam bem, que a viagem seja inesquecível. Ao viajar com Amar no jipe 1, o jipe líder de um grupo de seis veículos, tive oportunidade de o conhecer melhor e de ouvir de perto as suas respostas, que partilhava também com o resto do grupo por intercomunicador.
Num espanhol aprendido com a vida, Amar satisfazia as nossas curiosidades e acrescentava notas de viagem. E há histórias que só nós – eu, o Carlos Bernardo do blog O meu escritório é lá fora, a viajante de uma vida e responsável da Royal Air Maroc Luisa Silva e a representante em Portugal do Turismo de Marrocos, Sílvia Lopes – os tripulantes do jipe nº 1, ficamos a conhecer. Como a do profeta José, uma longa história do Alcorão que conta, pausada e dramaticamente, ajudando-nos a percorrer os quilómetros que faltam até à última etapa por estrada desta viagem, a cidade de Zagora.
Mas a melhor história aconteceu logo no primeiro dia de viagem com Amar, porque foi ele quem a protagonizou. Tínhamos saído do Hotel Xaluca Maadid, em Arfoud, depois do pequeno-almoço. Esperava-nos o melhor dia do programa de viagem: percorrer o Grand Erg Chebbi, o deserto marroquino pleno de dunas cambiantes, pelas pistas do Rally Dacar.
Amar Achabou, the guide in the desert in Morocco, is a Berber with the gift of storymaking. He knows the Great Erg Chebi like the back of his hand. Every dune, every detour, every oasis or bivouac camp. He is happy, so he says, with a full smile that brightens his eyes. With his wife, Jera, he has 5 children, all with the name of prophets of Islam. He has eight brothers and his parents nine brothers each. It is not surprising, therefore, that in the course of our journey we were pointing to the home of uncles or cousins, a family that, although large, remains united. He is proud to have a large family tree at home that extends not only in width but also in height, crossing a past of many stories that make him who he is: a Berber from Erfoud, a city in Southeastern Morocco.
The Berbers, or Amazigh, were the first inhabitants of Morocco. In their origin, they were nomads, living in tents and moving on camels. But those who maintain this way of life are becoming few. "They do not work, they do not want to go to the city, where they fear they wont mingle, nor survive. They subsist on the income of their goats, "says Amar, who has a nomadic cousin.
Amar (pronounced "Omar") works with Xaluca Tourism and Hospitality Group and he enjoys his job: "I have a good salary, a good family, a house with a yard, where I want to plant date palms and watch them grow. My kids are happy when I get home. And my subordinates [ team of young desert guides] respect me".
Traveling with Amar is more than being guided by the endless landscapes of Morocco. Amar treats every traveler with affection, wants everyone to feel good, that the trip is unforgettable. I travelled with Amar on jeep 1, the leader of a group of six vehicles, and therefore I had the opportunity to know him better and to listen closely to his answers, which he also shared with the rest of the group by intercom.
In a Spaniard learned from life, Amar would satisfy our curiosities and add travel notes. And there are stories that only us, the crew of the Jeep # 1, got to know. Like that of the Prophet Joseph, a long Koran tale that he passes on to us, helping us to navigate the miles that remain until the last stop of this journey, the city of Zagora.
But the best story happened the first day of traveling with Amar, because he was the leading actor. We had left the Xaluca Maadid Hotel in Arfoud after breakfast. I was ansious to experience the best day of the travel program: tour the Grand Erg Chebbi, the Moroccan desert full of shifting dunes, along the Dakar rally tracks.
Depois de algumas paragens para admirar a paisagem, sentir o sol e o silêncio, chegámos ao Oásis de Tisserdmine, onde iríamos, pensávamos nós, fazer um piquenique à hora do almoço. Saídos dos jipes, demos com um Amar transtornado, zangado, a reclamar em árabe com os jovens condutores dos outros jipes da nossa caravana. A dado momento, Amar chega mesmo a dar um murro no capot do jipe – o que me pareceu um pouco incoerente com o profissionalismo com que até então nos recebera e nos conduzira pelo deserto. Mas como não entendo árabe, só podia esperar que ele nos explicasse o motivo de tanta agitação. Eis quando nos diz "Levantei-me cedo, preparei duas arcas para o piquenique, com "bocadillos", disse-lhes que as trouxessem e eles [referindo-se aos condutores dos outros jipes] deixaram-nas na recepção do hotel! Isto nunca aconteceu antes! Agora não temos nada para comer e, se voltarmos atrás [estamos a falar de mais de duas horas de caminho] vamos estragar o dia e não chegamos a tempo ao próximo destino!… Vão despedir-me, isto vai-se saber e vou ser despedido, vou ficar sem trabalho, sem nada para sustentar a minha família!…" Nesta altura Amar começa a chorar com lágrimas e nós, que até então tínhamos tentado acalmá-lo dizendo que ninguém se preocupava com o almoço, que estávamos bem assim, começámos a ficar genuinamente preocupados com aquele bom homem que tão bem nos tratara. É então que a Sílvia, responsável pelo grupo, nossa "guia" desde Portugal, preocupada e solidária, improvisa uma desculpa para voltarmos ao hotel, no tom de voz mais calmo, convincente e resoluto que consegue articular, para apaziguar Amar: "Ainda bem que vamos voltar ao hotel, porque eu precisava mesmo de ir, esqueci-me do meu passaporte no quarto". Entretanto já os outros guias tinham desmanchado o papel e começavam a rir… Amar, de objectivo cumprido, desfaz o engano, diz-nos com aquele sorriso seguro: "era uma brincadeira, não temos "bocadillos" mas temos uma surpresa para vós para o almoço.
Descompressão geral, a Sílvia respira – e expira – de alívio, reconhecemos o talento de Amar para actor, mas prometemos vingar-nos mais tarde (o que acaba por não acontecer, pois claramente não somos tão imaginativos como ele para inventar partidas). Amar continua a rir-se com vontade, conta-nos que há senhoras que choram quando ele diz que vai ficar sem sustento, as reações são tão genuínas que ele não se cansa de repetir o número com os turistas. Quer deixar-lhes uma memória especial das viagens que fazem com ele. E conseguiu. Nenhum de nós se vai esquecer dele, e não é só pela partida.
Lá em baixo, no oásis, onde até crescem favas, um cozinheiro grelha tenras fêveras de porco, há saladas, azeitonas, carne, frutas, vinho e bebidas frescas, uma mesa à sombra à nossa espera. Depois, muitos mais quilómetros de deserto, as grandes dunas de areia dourada, um passeio de dromedário ao pôr do sol e um convívio sob as estrelas, ao ritmo da música berbere, num bivouac. Intenso, sempre.
After a few stops to admire the landscape, feel the sun and the silence, we arrived at the Oasis of Tisserdmine, where we would go, we thought, to have a picnic lunch. Out of the jeeps, we found an upset, angry Amar complaining in Arabic with the young drivers of the other jeeps in our caravan. At one point, Amar even knocks on the hood of the jeep – which seemed to me a little inconsistent with the professionalism with which he had so far received us and led us through the desert. But since I do not understand Arabic, I could only wait for him to explain the reason for the upheaval. That's when he tells us, "I got up early, prepared two coffers for the picnic, with sandwiches, told them to bring them and they [referring to the drivers of the other jeeps] left them at the hotel reception! This has never happened before! Now we have nothing to eat, and if we go back [we are talking about more than two hours' journey] we are going to ruin the day and we wont be on time for the next destination! … They will fire me, this will be hear of and I'm going to be fired, unemployed, with nothing to support my family! … "At this time Amar begins to cry with tears and we, who until then had tried to calm him saying that no one was worried about lunch, began to be genuinely concerned about that good man who had treated us so kindly. It is then that Silvia, responsible for the group, our "guide" from Portugal, worried and caring, improvises an excuse to return to the hotel in the calmest most convincing and resolute tone of voice that she can improvise, to appease Amar: "It's good that we're going back to the hotel, because I really needed to go, I forgot my passport in the room. " Meanwhile the other guides had already started to laugh … Amar, with his goal accomplished, tells us smiling: "it was a joke, we do not have snacks but we have a surprise for you for the lunch".
General decompression, Silvia breathes relieved, we recognize the talent of Amar for acting, but we promise to avenge ourselves later (which ends up not happening, because clearly we are not as imaginative as him to trick people). Amar keeps on laughing willingly, while telling us that there are ladies who cry when he says he will run out of sustenance, the reactions are so genuine that he never tires of repeating the number with tourists. He wants to give them a special memory of the trips he takes them on. And he did it. None of us will forget him, and it's not just the game.
Down below, in the oasis, where even fava beans grow, ther's a a cook grilling fresh pork flakes, there are salads, olives, meat, fruit, wine and fresh drinks, a table in the shade is waiting for us. Then there were many miles of desert, the great dunes of golden sand, a dromedary ride at sunset and a conviviality under the stars, to the rhythm of Berber music, in a bivouac. Intense, no less.
Nota: Viajei a Marrocos a convite do Turismo de Marrocos e da Royal Air Maroc.
#veradantas #portoenvolto #ram #royalairmaroc #Marrocos #turismodemarrocos
#roadtrip #middleofnowhere #northafrica#desertlandscape #morocco #sahara#saharadesert #deserto #merzouga#visitmorocco #merzouga#ergchebbi #sanddunes #BeBoundless#fubiz #theimaged #thecreatorclass#myfeatureshoot #weltraumzine#noicemag #foammagazine#onbooooooom #ihaveathingforshadows#topcanonpt #freezfram#creativeimagemagazine #fdicct#lekkerzine #YourShotPhotographer#mindtheminimal #ig_minimalismo#paradiseofminimal #minimalmood#longxposure #subjectivelyobjective#yourshotphotographer #sanddunes#fubiz #landscap