Did you ever imagine having a cup of delicious Port Wine in front of you and, instead of indulging yourself by drinking it, use it as ink to create a work of art? Or, in other words, imagine that Port Wine colours become paintings?
Well, that's exactly what artist Gabriela Gonçalves has been doing for some time now, and with great success, under the designation of Wine Paintings. And its talent hasn't gone unnoticed: One of the oldest Port's founding houses (dating from 1692!), Taylor's has invited this young artist to host Port Wine Painting workshops in its visitors center. So it was there, in the heart of old Vila Nova de Gaia, that I had the chance to paint with Port Wine!
Alguma vez imaginou ter um cálice de delicioso vinho do Porto à sua frente e, em vez de se deliciar a bebê-lo, usá-lo antes como tinta para criar uma obra de arte?
Bem, isso é exactamente o que a artista plástica Gabriela Gonçalves tem vindo a fazer há algum tempo, e com grande sucesso, chamando-lhe Arte Vinho. O seu talento não passou despercebido: uma das marcas mais antigas e emblemáticas de vinho do Porto, a Taylor's, convidou-a para dar workshops de pintura com vinho do Porto no centro de visitantes da empresa. E foi lá, no coração da antiga Vila Nova de Gaia, que eu tive a oportunidade de pintar com Vinho do Porto!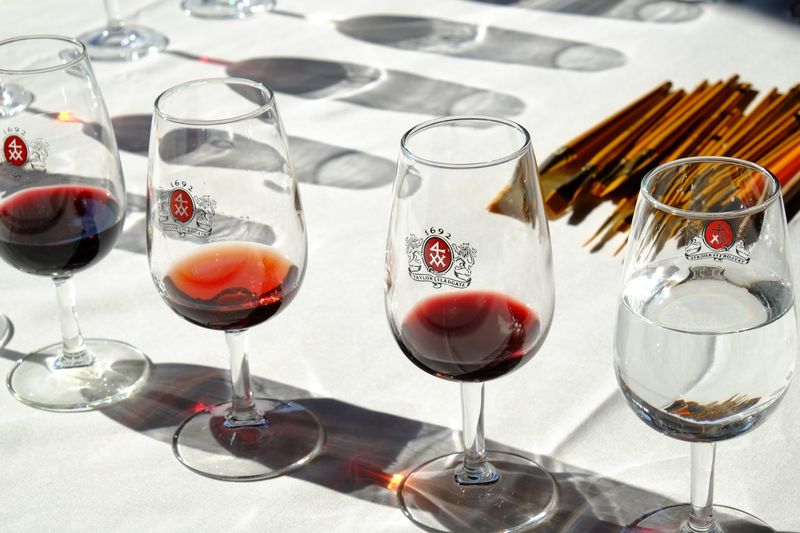 The experience starts with a guided visit to the historical Taylor's cellars, in which Marta, a Port Wine passionate and connoisseur guide stressed that, before producing art with Port Wine, one must first realize that this wine is a work of art in itself. If you've read my articles about PortWine and the Douro region (here, here, here, here), you have a good idea of the reason why. As for me, each time I visit a cellar, a Quinta or meet an expert, I find that I still have almost everything to learn. This time, I  was delighted with the secrets of the colours of Port Wine.
A experiência começa com uma visita guiada às caves históricas da Taylor's, em que a Marta, uma guia com profundo conhecimento e paixão pelo Vinho do Porto salienta que, antes de produzir arte com Vinho do Porto, é preciso primeiro perceber que este vinho é uma obra de arte em si. Se já leu os meus artigos sobre o Vinho do Porto e a região do Douro (aqui, aqui, aqui e aqui) tem uma boa ideia da arte envolvida desde o cultivo das vinhas ao cálice deste vinho. Mas posso garantir-vos que de cada vez que visito uma cave ou uma quinta produtora de vinho do Porto e encontro um especialista ou enólogo sinto, sem surpresa, que tenho quase tudo a aprender. Desta vez, descobri os segredos das cores do Vinho do Porto
Colour, flavour and aroma transform in contact with the cask's wood and that is one of the reasons why Port Wine ages in casks of different sizes. In the bigger casks, not all the wine becomes in contact with the wood, while in the smaller ones, there is a full contact.
If the wine is aging too fast, tits curators transfer it to a bigger wine cask in order to slow down the aging process. Ruby Port, which maturates with low contact with the wooden cask, preserver its initial characteristics for a longer time, due to low oxidation. 
Cor, sabor e aroma transformam-se em contacto com a madeira dos cascos e essa é uma das razões pelas quais o Vinho do Porto envelhece em cascos de diferentes tamanhos. Nos cascos maiores, nem todo o vinho está em contacto com a madeira, enquanto que nos mais pequenos, há um contacto total. Se o vinho está a envelhecer muito depressa, os enólogos transferem-no para um tonel maior, retardando o processo de envelhecimento. O Porto Ruby, que envelhece com baixo contacto com o casco, preserva as suas características iniciais por um longo período de tempo, devido à baixa oxidação.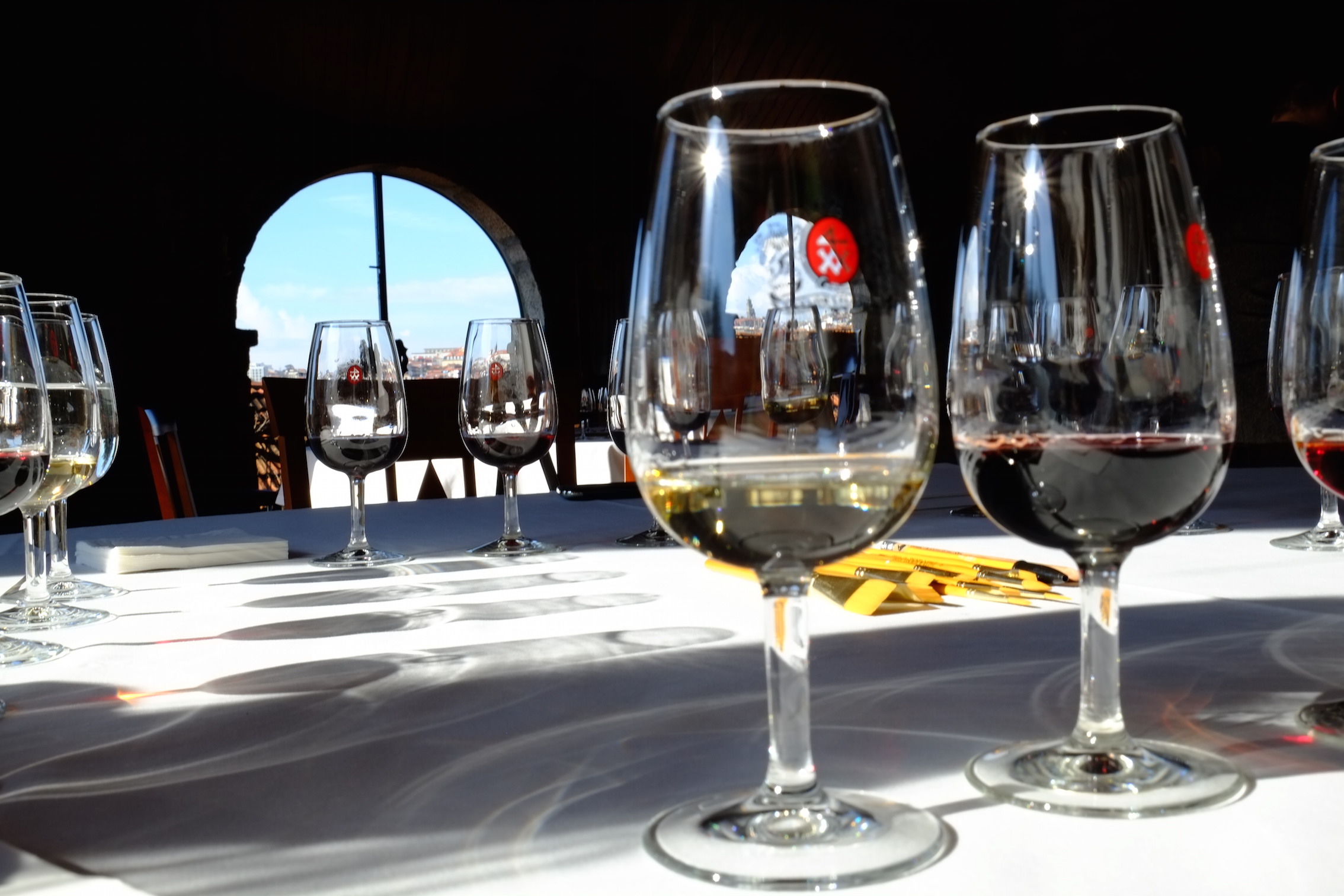 As flavors and aromas change and maturate, so does the colour. The initial deep red colour slowly becomes paler and evolves into the subtle amber hue typical of the Tawny.
The 155 years old Taylor's Scion Port Wine, an exceptional and rare Tawny, has a brown colour, although it is too precious to paint with… But you have four wonderful tones to paint with: light yellow (White Port), soft pink (Rosé Port), golden yellow or orange (Tawny Port) and bourdeaux (Ruby Port).
À medida que os sabores e aromas mudam e amadurecem, também a cor se transforma. A cor inicial vermelha profunda do Vinho do Porto torna-se mais pálida, evoluindo para a subtil tonalidade âmbar característica do Tawny. 
O Vinho do Porto Scion da Taylor's, um Tawny excepcional e raro, tem uma tonalidade castanha, mas é demasiado precioso para se usar como tinta… Mas há quatro belíssimos tons com os quais se pode pintar: amarelo claro (Porto Branco), rosa suave (Porto Rosé), amarelo dourado a laranja (Porto Tawny) e bourdeaux (Porto Ruby).
All Port colours lesson learned, the workshop begins in the Taylor's cellar visits room, in which the tables are elegantly prepared with Port wine cups, straws and sheets of paper carefully aligned. The artist, Gabriela Gonçalves, explains the art of wine painting and show us come of her beautifully works with this technique. She then paints a sample of each of the special "inks" we were going to use in a paper, to show us the possible results, given the different colours and textures. Four beautiful rose to reddish tones align, shining like fresh watercolours.
Aprendida a lição das cores do Vinho do Porto, o workshop começa na sala de visitas da Taylor´s, em que as mesas estão preparadas com cálices de Vinho do Porto, pincéis e folhas alinhadas numa simbiose perfeita.
A artista, Gabriela Gonçalves, explica-nos a "Arte Vinho" e mostra-nos alguns dos seus belíssimos trabalhos com esta técnica. A seguir, pinta uma amostra de cada uma das "tintas" especiais que vamos usar numa folha de papel, para nos demonstrar os possíveis resultados, dadas as suas cores e texturas distintas. Quatro subtis tons do rosa ao avermelhado alinham-se, brilhando como aguarelas frescas.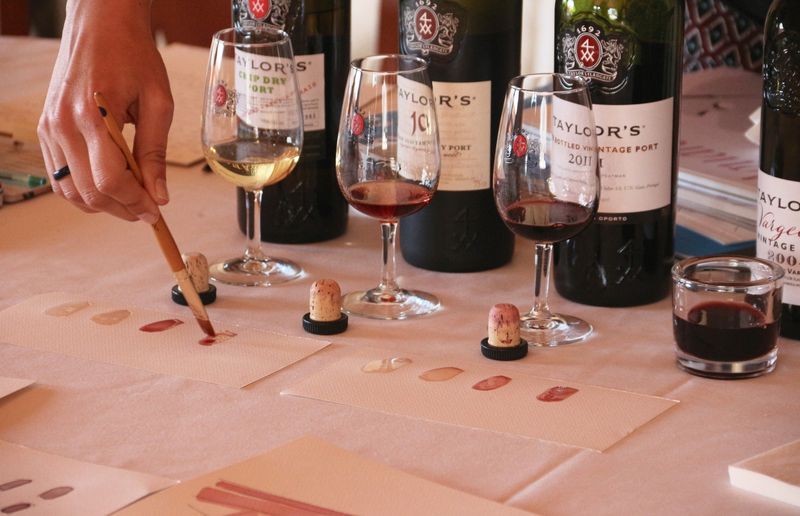 As I painted (or tried to) with Port wine, Taylor's visitors host, Ana Borges, served cups of the wines I was painting with, absolutely divine. It's a relaxing experience, with the sun light entering through the big glass doors that connect the room to a garden overviewing Gaia, the Douro river and Porto, on the other margin.
À medida que pintava com Vinho do Porto, a responsável pelas visitas da Taylor's, Ana Borges, servia cálices dos vinhos usados na pintura, absolutamente divinos. É uma experiência relaxante, melhorada ainda pela luz do sol que entra através das grandes portas de vidro que ligam a sala a um jardim com vista sobre Gaia, o rio Douro e o Porto, na outra margem.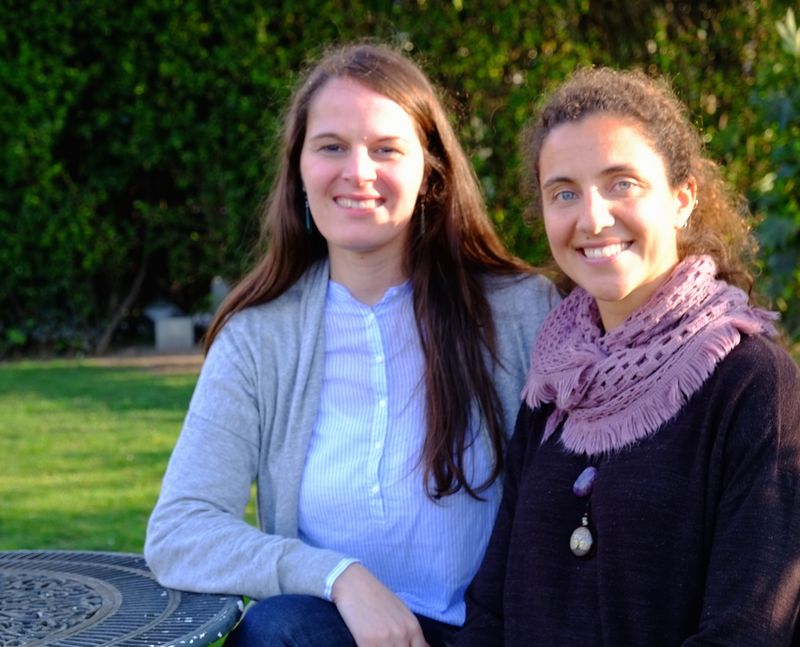 In the end I got to take home my painting (the drawing was made by the artist, but the brush strokes are mine) and also received a lovely hand painted certificate to remember this experience, that I strongly recommend. If you want to live it by yourself, just contact Taylor's and the company will set up a date according to the artist's availability. Not only is she a talented creator, she is also good at aiding and encouraging her attendants to express themselves without inhibitions. I certainly left Taylor's inspired to repeat my incursions in this original form of art!
No final, pude levar para casa a minha pintura (sobre as linhas desenhadas pela artista) e recebi ainda um certificado pintado à mão pela Gabriela, para recordar esta experiência, que recomendo vivamente. Se quiser experimentar por si, basta contactar a Taylor's para agendar uma data com a Gabriela. Não só é uma criadora talentosa, como sabe ajudar e encorajar os seus "alunos" a expressarem-se sem inibições. Posso dizer-os que saí da Taylor's inspirada para me aventurar de novo nesta original forma de arte!
Article by Vera Dantas
Photos credit by Gabriela Ferreira and Vera Dantas
©Porto Envolto
Port Wine Painting Workshops at Taylor's
Taylor's – Cellars or Quintas
Minimum number of participants: 10
More information at Taylor's website and Arte Vinho
Workshops Pintar com Vinho do Porto na Taylor's
Taylor's – Caves ou Quintas
N.º mínimo de participantes: 10 pessoas
Mais informações do site da Taylor's e em Arte Vinho
#VeraDantas #PortoEnvolto #Porto #Portwine #VinhodoPorto #Taylor's #BonsMomentos #Lifestyle #Arte #Art #Painting #Pintura #Gaia #Portugal #VisitPortugal #PortoTravel #Travel #Tourism #Viajar #Turismo